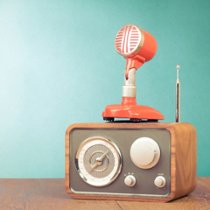 Turning up the Volume on a Writer's 'Voice' in Radio Production
As much as copywriters love creative control, we learn quickly that we're neither owed it nor are we likely to receive it. However, there's one medium in which writers potentially can let their voice be heard: radio.
When copywriting for a radio script, writers typically hear the whole thing in their heads — as they write the words, they're humming a tune no one else can hear. When it comes to broadcast scripts, descriptions of visuals for television are far easier to understand than descriptions of sound for radio, especially all the aural nuances the writer is hoping to convey (voice quality, inflection, music choice, ambiance and overall feel). There are, of course, thousands of ways a script can be executed. But the writer hears only one.
So what if you could tie the writer's initial passion more directly to the final product? To let them see their idea through? That is to say, what if writers were permitted to produce their scripts themselves? What could possibly go wrong? Less than you might think.
Of course, writing a script and producing the radio spot are entirely different beasts, requiring a separate set of skills. But at VI, writers have been trained and equipped to produce and engineer their own scripts.
This certainly wasn't the case when I started at VI more than 15 years ago. Once a script was written and approved, casting was done via phone or through local acting troupes. Then you'd take the script and a headful of vague ideas to a professional production house where you're typically relegated to a supervisory spectator position.
But nowadays, with streamlined technology and Internet access to infinite production resources, the copywriter can cast and direct the actor, select the right music, lay in appropriate sound effects and mix it to perfection — all without leaving the office. The result? A magic that cannot be otherwise duplicated, and a very close approximation to what's been swirling in your head.
While that may seem like a small triumph for an egotistical writer, the client is still king. So if they, or anyone else, don't happen to share your vision, writers at VI have the power to make production changes on the fly, with astonishing efficiency and to everyone's satisfaction. As a client, I would think that'd be quite a comforting luxury. As a writer, it helps maintain the illusion of control we like to pretend we have.