Dressing for a Better Tomorrow: How To Sustain an Ethical Closet
"Fast fashion" is a relatively new term to the style industry. It's cheap, runway-inspired clothing made in large quantities to meet consumer demand. The aim is to deliver the latest styles quickly, encouraging frequent purchases and short-lived garments. "Wear today. Dispose tomorrow"
This practice contributes to fashion's overproduction and overconsumption issues, making it a major environmental polluter.
The High Cost of Fast Fashion:
Today, 40 million people employed by the fashion industry are paid less than minimum wage and living in "modern slavery."

The average garment is worn as few as ten times before disposal.

Only 1% of all discarded clothing is actually recycled.

Fashion is one of the most polluting of all industries.

The fashion industry is responsible for 4% of greenhouse gas emissions.
Source: EarthDay.org
A Few Fashion Myths That Need a Makeover
To change the way we think about clothes. Let's debunk a few pricey myths.
Myth 1: Outfit repeating is a faux pas.
Anna Wintour (arguably the most prominent name in fashion) has given the same advice for years: It's better to have a few quality outfits you wear once a week than to have an expansive closet. In fact, most "Vogue" employees have five outfits that they rotate week after week. If "Vogue" employees can do it, so can you.
Myth 2: All brands and fabrics are created equal.
One unfortunate truth about sustainable fashion is that it's usually pricey. Instead of giving up on your sustainable conquest to save money, reframe how you think about fashion. From here on, buy only timeless, good-quality silhouettes you can wear on multiple occasions. Your closet is an investment — and will save you money in the long run.
Also, look for high-quality and responsibly sourced fabrics. Recycled cotton, wool and linen will survive several washes and wears without falling apart.
Myth 3: You can always trust the label.
SEVERAL brands are all talk and no action when it comes to sustainability. Brands label themselves as "sustainable," "good for the planet" and "earth-conscious" without doing anything. This phenomenon is known as "greenwashing."
When a company labels itself as "sustainable" while still exploiting overseas workers, throwing out spare fabric and using toxic dyes, it probably means employees use recycled cups. Sure, the tags may be from recycled materials, but unfortunately, that's not enough to combat their carbon footprint.
3 Budget-Friendly and Ethical Ways To Improve Your Closet
I'm not saying you need to donate all your fast fashion for designer labels and ethically sourced materials — I mean, unless you have thousands to burn on a new wardrobe. Instead, try incorporating a few easy tips into your existing closet.
1. Mend: We know the heartache of ripping a belt loop and snagging a sweater. And before learning the ins and outs of textile waste, I was very guilty of replacing rather than mending. Throughout October, we made mending a goal, so the next time we rip, fray, snag or tear our clothes, we can keep them in the rotation!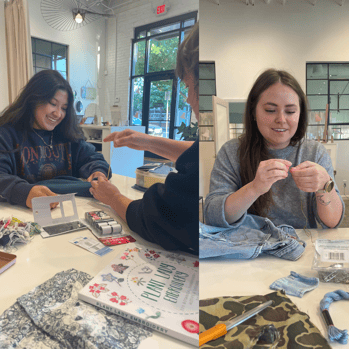 I promise, if we can figure out how to fix our clothes, anyone can!
2. Borrow: Instead of buying new for every party, wedding, interview and presentation, see if you can borrow something old.
Raid the closet of your stylish friends, roommates or siblings for a quick and free fashion refresh. Just be sure to ask their permission if you want to sustain that relationship.

Check out a few clothing rental options! Online rental options like Nuuly (for trendy, everyday wear) and Rent the Runway (for special occasions) are affordable ways to rock designer and high-end trends while saving the world.
3. Swap: If you feel like your closet needs a complete overhaul, odds are you're not alone. An organized clothing swap is a great way for everyone to get a free wardrobe refresh! All you need are a few racks, a lot of hangers and a little bit of planning.
To celebrate 30 Days of Change, we set up a swap at VI — because who doesn't want to spend their lunch hour shopping with coworkers? For FREE!
If you're ever feeling so last season, remember that the fashion industry has a few pitfalls of its own. Find a sustainable style that works for you and embrace your new ethical wardrobe.
Looking for more ways to make a change? Shop our 30 Days of Change.
Authors: Mindy Scott, Lexie Morales and Emma Phibbs