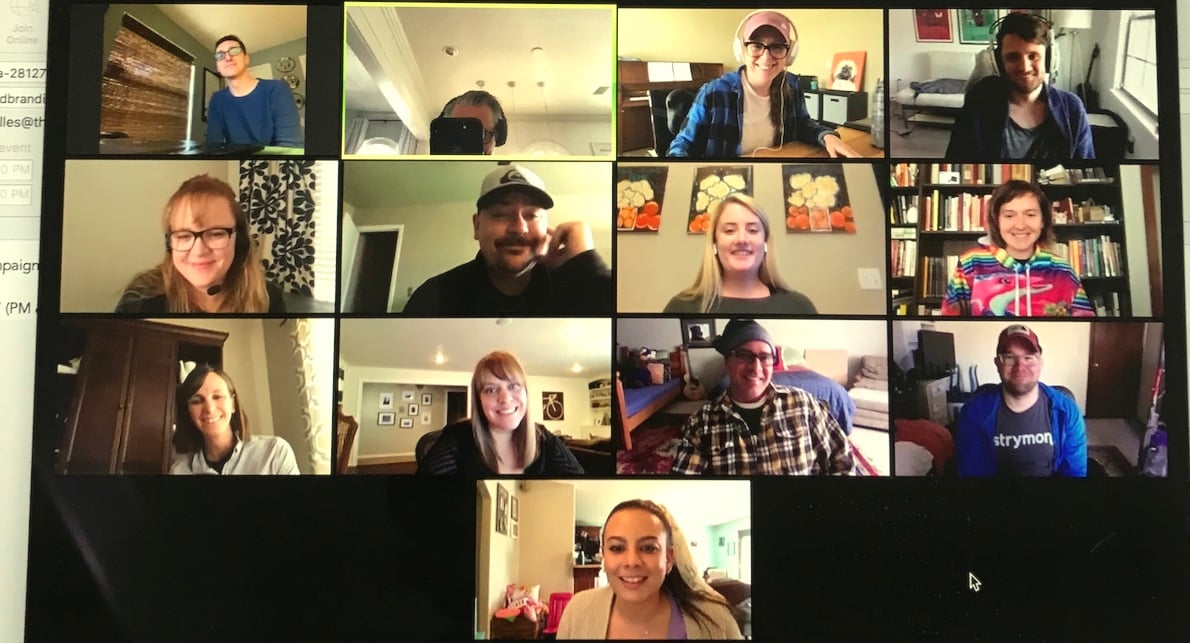 How To Keep Company Culture Thriving At A Social Distance
Are you worried about maintaining your company culture while adapting to remote work? A lot of organizations and companies are becoming overwhelmed by the need for new processes and tools to efficiently work from home. Right now, it is easy to overlook including blocks of time for continued culture growth. We all know the importance of company culture. While there's no doubt companies are currently just trying to find ways to stay above water, if possible, keeping a focus on these corporate communal events and activities is more important than ever.
Why is this important?
Working remote can take a toll on your employees both mentally and physically through isolation and the difficult technological hurdles they must overcome during work hours. Employees accustomed to working in a space where they can stop by their teammates' desk to ask a simple question or catch up on shared experiences can feel sapped of their energy by the current lack of interaction. Likewise, being removed from the basic tools modern offices have in place like scanning, printing, and IT help, can rob teams of their enthusiasm and motivation. Ensuring you have regularly scheduled community time that helps you're your team members connect outside of the daily work grind, can go a long way to keep your culture cohesive and your employees energized. Prioritizing time for this (more than just the pre-Zoom meeting chatter) can make employees feel encouraged and seen.
Where do we start?
Helping your team members understand and implement some best practices in working from home prepares them to engage in culture-building events. Things like making sure they are preparing for their workday just like they did when they came into the office each day. Also, taking a true lunch break away from their computer and making time to talk with the friends they have made around the office. The more organized your team is, the more confidence they have in their work capacity and their availability for non-project related events. Having an established daily schedule helps to keep your team focused on the work at hand while creating an environment primed for cultural growth. Once your teams have settled into the new standard workday, it is time to brainstorm a few different ways to provide cultural experiences for the group.
What should we do?
Most likely all of your meetings have moved online and so should your corporate team building events. At VI, we host Beer Club every Thursday afternoon where we make corporate announcements, celebrate birthdays and anniversaries, review our campaign successes, and just take time to chat. Taking this online, we have included activities to inspire our team members to engage. The key is to find creative ways to turn engaging activities and initiatives virtual. Every company is working on ways to adapt and this is just one more aspect to think through. For example, we have plans to host an employee trivia contest and a virtual group tour of the Louvre. We also have moved our weekly lunch learning sessions, or "Food for Thought" online.
Rachel Cho, in her Hubstaff article entitled 7 Disadvantages of Working from Home and How to Counter Them, discusses how important it is to provide and nurture an online meeting place.
"Automattic, the team behind WordPress, developed an internal blog called P2 where everyone can publish posts based on their achievements and how their week went. At Hubstaff, we have a Slack channel for random discussions where we discuss 30-day running challenges (which I supported with good thoughts) and share interesting articles we find around the web."
Other companies are inspiring their employees to break for 5 minutes of every hour to get up and move. Shape Your Future is a great resource for simple exercises you can do anywhere - check them out!
Culture is a mindset and pivoting to a remote work environment requires a holistic view to help prepare others to engage socially while maintaining a safe social distance. We recognize times are tough right now, but with a little creativity and a little time spent, your teams will rally around your brand and come out better for it.
Follow VI on Instagram for ideas on what you can do with your teams!