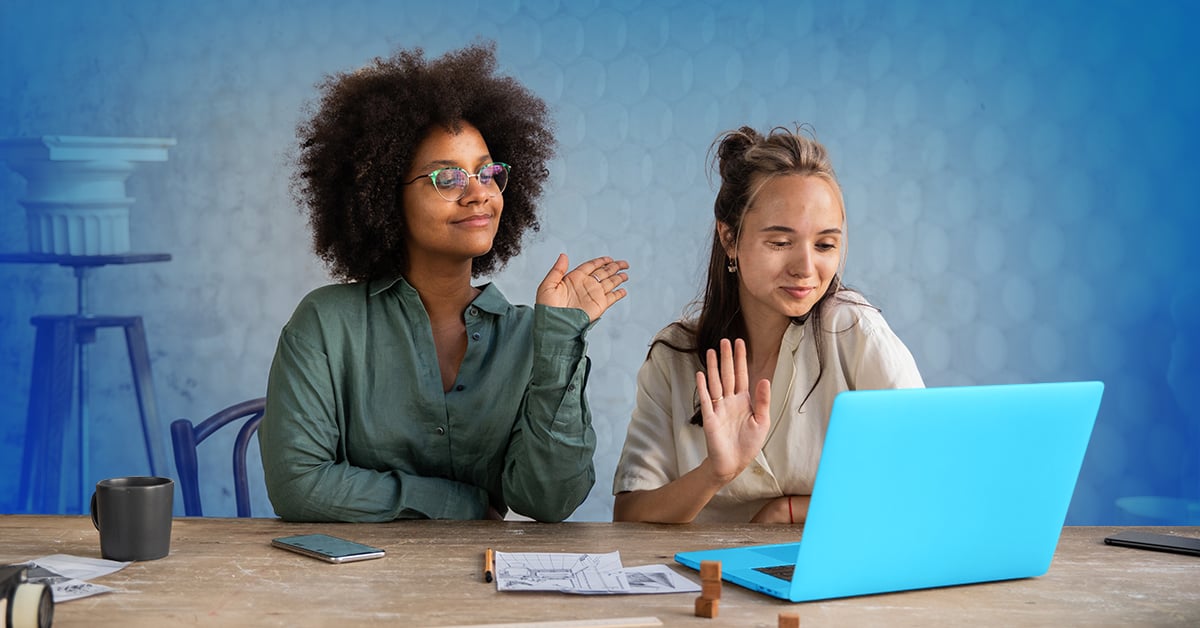 Communicating Remotely: Revisiting The Importance of Quality Communication
Last year, most of us would never have guessed that working remotely would last beyond a few weeks… two months, tops, right? Zoom might have been thought of as a temporary bandage the day you received your first remote meeting invite. Fast-forward just one year later and your opinions have likely changed. WFH has stood the test of time, and with it comes with many challenges, including important communication hiccups that, unfortunately, are often overlooked. Remote communication will likely play a permanent role in your "new normal" workday. Because of this, it's extremely important to make sure you are mindful and knowledgable when it comes to inter-virtual-office communication.
According to a new study from Stanford, the proximity that is virtually mimicked over video calls is interpreted by our brains as an intense situation that will likely lead to conflict. Another study shows that the lack of nonverbal cues, hyper-focus on spoken words, and increased and maintained eye contact is exhausting for many. Often, WFH can result in inconvenient, annoying and even awkward miscommunications. Whether you're leading a video meeting with a client or just sending a quick email, your ability to communicate well with those around you will significantly impact the kind of teammate you are and in turn, increase the value of the organization you represent.
So, let's dive into interpersonal communication for a refresher on the building blocks of solid communication.
Interpersonal Communication
Interpersonal communication is the exchange of ideas, emotions and feelings through several methods, both verbal and non-verbal. There are four main types of interpersonal communication, and each represents an important aspect that a good communicator should focus on:
Nonverbal Communication: Nonverbal communication refers to any communication that does not use words - hand gestures, posture, even closing your eyes while speaking. When practicing your nonverbal communication, it's important to be mindful of a few things:
Be intentional -

If utilized properly, nonverbal communication can go a long way. The more intentional you are about your nonverbal cues, the more effective they will be. Especially during video calls - this will greatly benefit those you are communicating with as they can consider your nonverbal communication and translate it into a clearer understanding of what you are trying to communicate.

Body language matters -

Studies show that lacking eye-contact on video calls can be seen as dishonest or a sign of low confidence. Be mindful of the message your body is sending. Sitting up straight, smiling and maintaining eye contact can make a big difference.
Verbal Communication - Verbal communication is anything closely related to speaking. This means not only the words you choose to say, but also the tone you take when you say them. In the workplace, this type of communication is often emphasized the most, but don't be misled: while it is important, it's not always the most important form of interpersonal communication. Here are a few things to focus on to become a better verbal communicator:
Speak confidently -

Speaking clearly, confidently and smoothly helps others pay attention and could make a big difference when communicating remotely.

Have an adequate understanding of what you're talking about -

Know what you're saying! A large part of effective communication is credibility. If you don't know what you're talking about, you won't be able to communicate well.
Written Communication - Written communication includes words and symbols (including emojis👏👍 and punctuation!) that are typed or marked - emails, text messages, letters, notes, chats and more. Because all these outlets are written, accurate spelling and grammar is imperative. To develop your written communication skills, start by homing in on these concepts:
Practice professionalism - While striving to keep it professional, it's important to understand the platform you're using, and be aware of the differences in email writing and chat writing. However, there's no shame in practicing client-level professionalism with your coworkers.

Strive for simplicity -

If you have a lot of information to communicate, do so. But, if you can convey your ideas in a few words, the simplicity will often result in clearer communication.

Review... and re-review.

Spelling mistakes and grammatical errors are unprofessional and diminish the value of what you're trying to communicate. Attention to detail is important - especially when you are sending emails in a hurry

during a crisis.



Listening - Listening is more than just hearing what someone is saying; it involves actively trying to understand and consider the information they are communicating. To become a better listener, focus on a few core practices:
Respect the speaker -

When you value and respect an individual, the easier is is to listen and interact with the information they are sharing with you.

Practice empathy -

Seeking to understand another's point of view allows you to have greater interest and appreciation for what someone is saying. Practicing empathy will make you a better communicator and listener.

Take notes -

Note-taking has two benefits: not only does it visibly show that you're listening, it also helps ensure that you'll remember important points later.

Resist the urge to chime in -

It's not always beneficial to add your thoughts when somebody else is sharing, especially if you're talking just to be heard. Stop and evaluate your thoughts to discern if they are truly necessary and helpful to the conversation.
A good communicator will actively practice and perfect each of these four aspects of interpersonal communication. In a time of remote communication, developing solid communication skills is more important than ever. Happy Zooming!