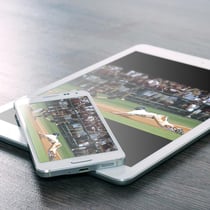 eMarketer has recently released its 10 Key Digital Trends for 2017. One of these predictions is that some time in 2017 a live digital video stream will achieve a primetime TV-size audience. To preface this, when we discuss livestreaming we are not talking about current viewing on Netflix, Hulu or Amazon Prime. These are programs (usually also on TV) being broadcast through an online source. When looking at why they think this year will have this increase let's take a look at what we saw in 2016 and what is planned for 2017.
First, let's look at 2016:
Now moving into 2017:
Hulu will launch a live TV streaming service. They have partnered with Disney, Time Warner and 21st Century Fox. This will join other platforms like SlingTV and PlayStation Vue in driving cord cutters and increasing live streaming audiences.
Facebook Live continues to see growth since their beta launch in the beginning of 2016. A worldwide campaign promoting Facebook Live began in October and they are currently working on new features to further grow this platform in 2017.
YouTube is another company that is said to be planning a launch of an online TV service in 2017. This Google owned company has already completed a deal with CBS and is working with others to grow a base of channels for their Pay-TV service. It is currently being called "unplugged".
So what does this all mean? There are changes that are happening but the live viewership for all major events and shows still remains on television. Many of the new formats have yet to master their advertising and most still lack any local options. These new channels are amazing options to work with to enhance current campaigns but they are not replacements. Each works as a piece of the puzzle to reach part of your target but to ignore one for the other leaves you without the full picture.
I encourage you to continue to research your target market to best understand their media consumption habits. The better you can do this the better you can reach them in each touch point throughout their day and create a campaign that adapts fluidly as technology continues to change.
(To learn more about VI's marketing services, click here)