VI Marketing and Branding Named Finalist for Jay Chiat Global Advertising Award: Company Recognized for 5320 Campaign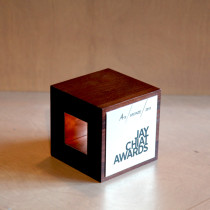 OKLAHOMA CITY, OK – VI Marketing and Branding has been named a finalist for a 2011 Jay Chiat Award, the global advertising awards that recognize brilliant strategic thinking presented by the American Association of Advertising Agencies each year.
VI, an Oklahoma City integrated marketing firm is one of eight finalists in the Communications / Media Strategy category for its 5320 campaign for the Oklahoma Tobacco Settlement Endowment Trust (TSET) and the Oklahoma State Department of Health (OSDH).
Other finalists in the category include BBDO India for Proctor & Gamble's Mach 3, Campbell Mithum for Chipotle, Draga5 for Microsoft Bing, Goodby Silverstein & Partners for Adobe, OMD for Pepsi and Optimedia for Citibank, all international ad agencies.
"Not to borrow a line from Academy Award night, but when looking at the other finalists in our category, we are honored to have made the shortlist for a Jay Chiat," said VI President Tim Berney. "First and foremost we are extremely proud of the VI team that created a hugely successful campaign for our clients, TSET and OSDH. The recognition at an international level not only speaks to the quality of our work and our people, but also extends the life of the 5320 campaign, bringing even more awareness to the healthy lifestyle needs of our state."
The awards will be presented on the night of October 13, 2011 in New York City.
About the 5320 Campaign: Ranking near the bottom in public health statistics, TSET and OSDH called on VI to create an awareness campaign that would encourage Oklahomans to eat healthy, exercise more and smoke less. We determined if Oklahoma could reach the "average" level of public health in the U.S., that 5320 less Oklahomans would die each year.
A seven-week teaser campaign featuring paid media, social media, digital media, public relations and guerilla marketing culminated with a 5320 reveal event creating statewide media and public awareness.
About VI Marketing and Branding: VI Marketing and Branding is a 22-year old marketing communications firm headquartered in Oklahoma City. Formerly a full-service advertising agency, VI has evolved into a marketing communications firm with expertise in developing marketing programs, strategic planning, branding, public relations and digital media, in addition to the traditional creative and media services of advertising agencies. The company also has offices in Colorado Springs, CO and Kansas City, MO.