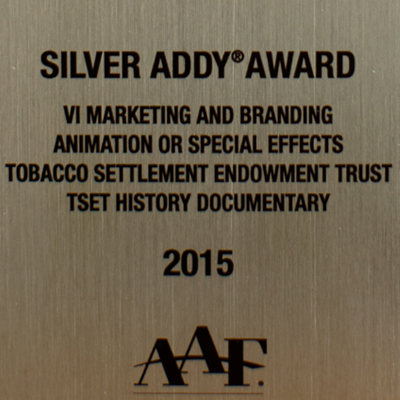 VI Marketing and Branding Wins National ADDY Award
A couple months ago, a group of us flew to Las Vegas for the National ADDY awards. ADDYs are the American Advertising Federation awards recognizing the best in creative advertising over the past year. All entries start at the local level and if you win at one level, you advance to compete at the next level: local (Oklahoma City office), regional (10th District, Texas, Oklahoma, Louisianna and Arkansas) then on to national.

In late April, we received notice that we had won a National ADDY. This means

we won against 40,000 entries

in our category alone. That's not something every agency can claim. Especially at a shop our size. Our work was being measured against a Who's Who of global agencies. To even be recognized along with these icons was gratifying. To beat them? Well, it was a sweet victory. We're a shop with a little more than 60 people. Most of the agencies competing had well over 1000 employees.

Here's the best part. It felt like we belonged. Everyone we bumped into was cool to a fault. The environment was set up to accommodate every shop, no matter the size. And the work on display and on-screen during the show was, in a word, inspiring. The National ADDYs are a BIG deal.

We won for an animated intro we did for the Oklahoma Tobacco Settlement Endowment Trust. This animation told the story of big tobacco from the 1930s to the late 1990s. Lots of research, art direction, editing and special effects went into the making of this piece. Some of the team responsible came along for the award ceremony and I'm pretty sure everyone came away as impressed as I did.

There's only one problem. Once you go, and see your name up in lights, it's like Lays potato chips – you can't have just one. Save us a seat, National ADDYs. We'll be back.