What a Quality Score Means for Your Google Paid Search Campaign
A successful

Paid Search

campaign is one of the best ways for a business to significantly increase qualified website traffic and drive conversions.


Paid search performance relies heavily on a metric called quality score. Google assigns each keyword a quality score based on three criteria: Keywords, Text Ads, and the Landing Page.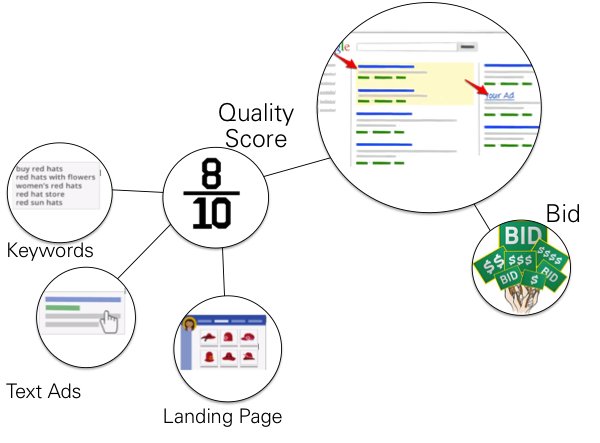 Source: Google
Every time a search is conducted, Google scans the advertiser's keyword list, text ad copy and landing page content. This process occurs and a score out of ten is assigned in a nano-second.
All of this is done to ensure a positive user experience, which benefits the user, Google and you, the advertiser.
It is in Google's best interest to serve only the most relevant ads.
When users are served ads that directly correlate to their search, they are more likely to click on the paid search ad. If these users find the answer to their search on the ad's landing page, they are more likely to continue using Google in the future and click on more ads. These ad clicks generate profit for Google.
Relevant ads translate to high quality scores and low cost-per-clicks, which in turn saves the advertiser money. This ensures only high quality traffic is coming to your site and in increase your website's conversion rate.
Three tips to ensure relevant paid search ads:
Group keywords into very specific ad groups
Include the keyword you are bidding on in your text ads
Add the keyword to the corresponding landing page content