3 Tips from Taylor Swift's Marketing Playbook for Your Own Brand
Taylor Swift released her tenth studio album Midnights on October 21st, and promos for the album flooded everyone's feed — or at least ours. For months, she kept us entertained with her Midnight Mayhem teaser TikToks, late-night talk show appearances, Amazon Thursday Night Football album tease, and viral TikTok dances.

Even if you're not a "Swiftie," you're sure to catch Swift across all social media platforms. The strategic marketing behind the release of Midnights paid off. Swift's Midnights broke the Spotify record for the most album streams in a single day. She also made history by claiming the Billboard Charts Hot 100's entire Top 10 in a single week.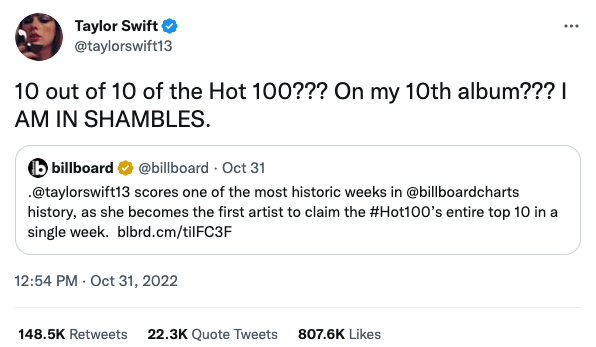 It's safe to say Taylor Swift is a marketing genius, or should we say marketing mastermind. As marketers, there's plenty to learn from Swift's marketing strategy, even if we aren't selling out stadium tours. Lean in and check out the top three marketing tips we can learn from this iconic singer-songwriter:
1. Reinvention is Key
If you fail to plan, you plan to fail.
The key to staying relevant is constant reinvention. Every time Swift drops a new album, it's a chance for a complete rebrand, keeping Swifties on their toes and hungry for more.
For example, in 2015, when Swift dropped her critically acclaimed pop album, 1989, she received some backlash on social media. She took a year-long social media hiatus in 2017 and returned by surprising her fans with her fierce album Reputation. Swift's "Reputation Era" was aesthetically and musically distinct from all her other projects. Then, in 2019 she released her album Lover, allowing fans a look into Swift's softer, more romantic side. In Swift's upcoming 2023 tour, fans will see all her different "eras" come to life on one stage.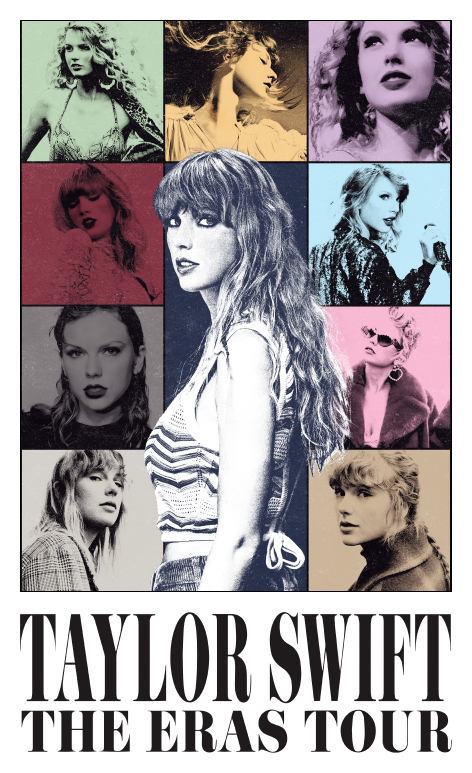 The way Swift reinvents herself should inspire marketers. To be a top-ranking brand, you must be willing to reinvent and take risks. With strategic marketing, your brand can stay relevant by keeping up with trends that align with your brand's values, which can help you stay connected to your audience.
2. Cater to Your Audience
I'm only cryptic and Machiavellian 'cause I care.
Taylor Swift and her marketing team know their audience and cater to them. She connects with "Swifties" by leaving them Easter Eggs, hidden clues about what's coming next. Swift explains on The Tonight Show with Jimmy Fallon how she plans her launches far in advance to be able to leave these hints for her fans. Swift explained, "It's sort of a tradition that we started a very long time ago. I think the first time that I started dropping sort of cryptic clues in my music was when I was 14 or 15, putting together my first album."
Swift was hinting at Midnights more than six months before the release by leaving Easter Eggs in plain sight. For example, in May, Swift posted a video on Instagram promoting her rerecording of "This Love (Taylor's Version)" for the Amazon Prime series, 'The Summer I Turned Pretty,' with an Easter Egg hidden in plain sight. She wrote, "This Love (Taylor's Version) comes out tonight at m i d n i g h t!". Fans initially thought she was referencing a song from her 1989 album called "Style," but little did they know she was hinting at dropping a brand-new album!
In her latest music video, "Bejeweled", Swift leaves many Easter Eggs hinting at her album Speak Now, leading Swifties to believe it will be the next album she rerecords. Swift announced the Bejeweled music video to Jimmy Fallon in an interview. She shared with Fallon that she and her team "have a PDF file for the Easter Eggs in this video because there were so many, we couldn't keep track." Throughout the music video, string arrangements of songs from her Speak Now album played in the background, like "Enchanted" and "Long Live." This music video is a spin-off of the Cinderella tale, and Laura Dern plays Swift's evil stepmother. One of Dern's lines is "Speak not, tired tacky wench. Clean!" which could be another Easter Egg hinting at the Speak Now album. Do all these Easter Eggs mean Speak Now will be her next re-record? We will have to wait and see.
3. Build Loyalty to Sell Your Brand
My pennies made your crown.
As mentioned, Swift is rerecording her old albums, but maybe you've been wondering why. Here's the breakdown.
Swift signed with Big Machine Records in 2005, and her contract was up in 2018. She recorded all her songs with them, and Scooter Braun owned all the music recorded during that time. In 2019, Braun sold Swift's masters recordings to Shamrock Holdings for a reported $300 million. Swift did not hold back from sharing her thoughts: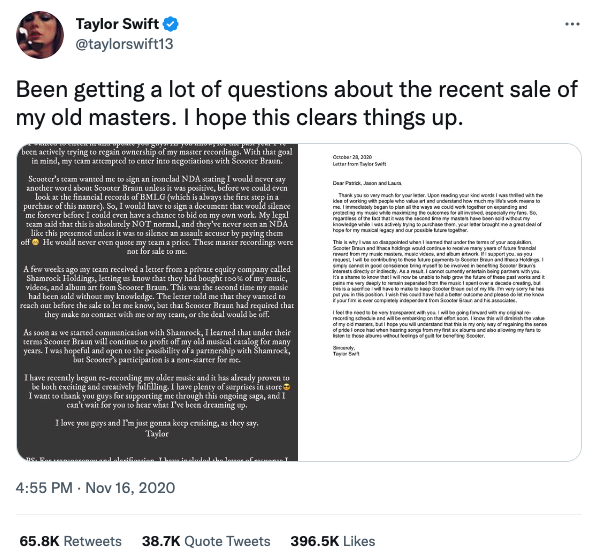 If you listen to an old Swift song, you're likely putting money in Braun's pocket for Swift's work. She reclaimed her power and started rerecording her old albums, so she owns the rights, not Braun. You'll know you're listening to a Swift-owned song if it says "(Taylor's Verizon)" in the title. The rerecorded albums are staying faithful to their original versions.
Billboard shared, "Red (Taylor's Version) peaked higher on the Billboard 200 than the original Red, debuting at No. 1 on the album tally upon its release last year and spending 35 total weeks in the top 40 of the charts since then." Swift didn't make any dramatic changes to her product (her music). Instead, she used the content she already had differently and made money. Fans that already own Swift's old albums are buying Swift's rerecorded albums because of their loyalty to her.
It's also worth noting that the tickets for her upcoming tour broke Ticket Masters record (and crashed their website!) for the most tickets sold for an artist in a single day, with over two million tickets sold. Hats off to those who survived the "Great War" of purchasing Eras Tour tickets.
Above all, Swift is a storyteller and a friend to her audience. Over her many eras, she has reinvented herself over and over to tell stories in an engaging way. She strategically plans her album rollouts leaving Easter Eggs as a way of having a conversation with her fans. The way Swift markets herself builds trust with her fan base. This trust and loyalty make her audience want to spend money on anything she sells, whether it be merch, CDs, records, or concert tickets.
As marketing experts, we can learn from Swift how to sustain our brand over a long period of time by reinvention, catering to our audience, and, most importantly, building trust.
VI is here to help YOUR brand!
Looking to reinvent your brand? Or do you need to build brand trust? VI marketing strategy experts are ready to help your brand thrive! Click here to drop us a line.