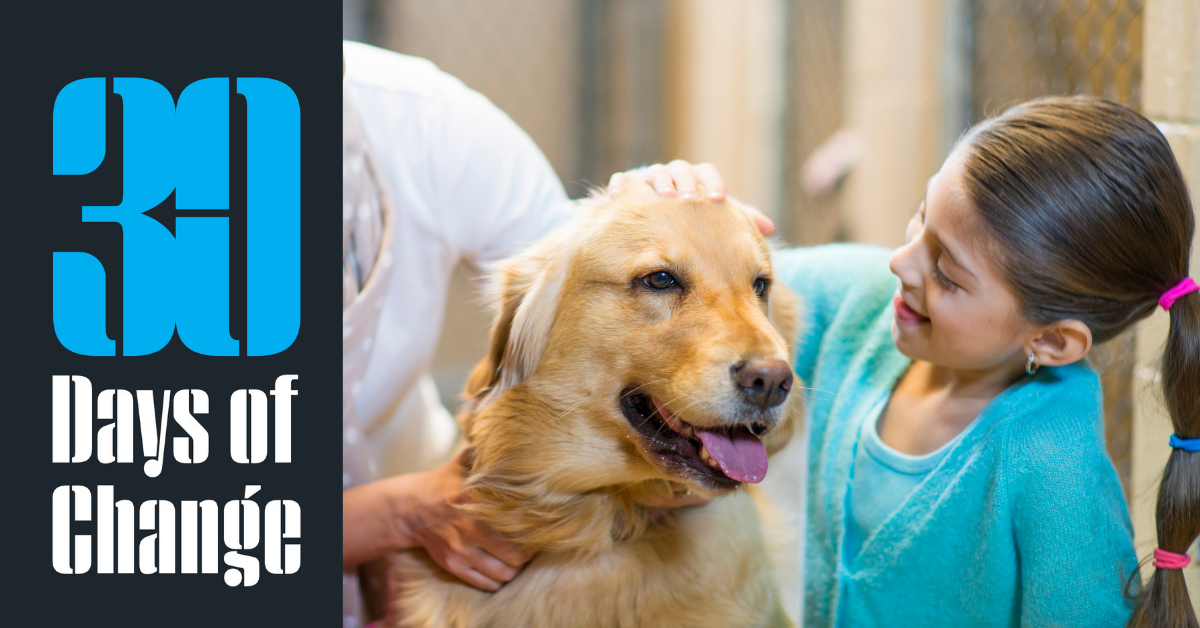 5 Ways to Support Adoptable Pets This Year | 30 Days of Change
According to the ASPCA, approximately 6.3 million companion animals enter a U.S. animal shelter each year. Of that 6.3 million, only 4.1 million are typically adopted each year. That leaves 2.2 million animals for shelters to care for nationwide. Many animal shelters rely a great deal on help from their community. This year, we want to highlight how you can help your local animal shelters and provide a spotlight on as many of them as we can. Please note that it is important to volunteer, donate, buy wish list items, foster, and adopt from all shelters, not just the ones that we have listed.
1. Volunteer
It is no secret that many shelters and adoption agencies rely a great deal on help from volunteers. Help can come in many ways from volunteering to help at the shelter to working at fundraisers or even adoption outreach events. Many shelters could also use help with transporting animals to/from appointments, foster homes, and adoption events as well. If you would like to volunteer at a shelter in Oklahoma City here are some suggestions for where you could go:
Forever Yours OKC
Forever Your OKC was founded in 2011 by three women with a love for dogs. They rescue dogs of all breeds, sizes, conditions, and age.
Safe Haven Animal Rescue
Safe Haven Animal Rescue is a non-profit rescue organization dedicated to homeless and abandoned animals.
2. Donate
Many rescue organizations rely on funding from donors to keep their doors open and continue to rescue and advocate for the adoption of animals of all kinds.
Bella SPCA
Bella SPCA is a non-profit organization in OKC that has helped find almost 9,000 dogs and cats new homes. They are also dedicated to helping low-income, elderly, or terminally ill pet owners with the incredibly excessive cost of vet bills. By doing this they have helped contribute over $1 million to vet care.
3. Buy items from a shelter's wish list
With the addition of wish lists to Amazon, many shelters can now provide links to their wish lists for items they need. Based on these lists, people can buy items that shelters are in desperate need of. Some common items on these lists include towels, blankets, crates, dog/cat toys, and much more.
OK Humane Society
OK Humane Society parents with the OKC Animal Shelter as well as surrounding animal shelters to help alleviate the euthanasia of healthy animals. They have been around since 2007 and have helped 30,000 cats and dogs find homes.
4. Foster an animal
More often than not, animal shelters are at or above the capacity for the number of animals they can take in. Fostering an animal helps to alleviate the congestion shelters face as well as make room for any other animals that may need rescuing. Plus, you get to love an animal until they find its forever home. Being in a shelter can cause a dog or cat a great deal of anxiety because of all the other animals and the busyness. By fostering them in your home you give them a better environment to be in.
Pets & People Humane Society
Pets & People Humane Society is dedicated to rescuing dogs and cats from local municipal animal shelters before they are euthanized. They are dedicated to finding a home for every pet and want to provide education to the public as to what it means to be a responsible pet owner.
5. Adopt a pet
If our list of reasons to adopt not shop hasn't been convincing enough for why you should adopt a pet, maybe looking at some of the pets available for adoption will change your mind.
Country Roads Animal Rescue has rescued over 6,000 animals since 2015. They strive to rescue animals who deal with homelessness, neglect, or abandonment. Country Roads next event will be held on April 15th at Solo's Park & Pub.
Lab Rescue OK is located in Tulsa, Oklahoma and is dedicated to rescuing Labrador Retrievers. Currently they have 11 dogs available for adoption. Their next adoption event will be held April 16

th

at

Dead Armadillo Brewery

.