5 Tips for Successful Social Media Community Management
Think social media management is just creating, posting content, and repeating? Think again. Any social media manager will most likely tell you that most of their time is devoted to responding to messages and comments from followers and social users and joining conversations across the web. 80% of social marketers said that their key strategy is to increase engagement across social channels. Being active and present is one of the most important things a brand can do within their social media platforms. Check out these 5 tips for successful community management for any brand.
1. Know Your Brand and Know Your Brand Voice
One of the most important things social marketers should do to develop a cohesive brand on social media is to establish a brand voice. If you had to describe your brand personality, what would it be? Who would it be? Is it snarky and funny or is it informative and empowering? Comparing your brand to a celebrity or personality type may help you decide. A good example of a solid brand voice is Wendy's. Their social media team has identified a clear voice and has kept it cohesive across platforms. They know they can be sassy, and their audience appreciates the fact that they're genuine. Remember the chicken sandwich battle of 2019? Check out how Wendy's stayed true to their brand and jumped in on a big social conversation:


Even when Popeye's decided to respond, Wendy's stayed true to their voice with a humorous response that appealed to their audience – ultimately skyrocketing their engagement.


2. Create a Guide For Reference
Now that you've identified your brand voice, you can create a communication guide with frequently asked questions and have some approved responses ready. 57% of consumers reach out to brands because they have a question about a product or service, and 45% reach out with issues about a product or service. What are some of the FAQs about your brand? Can you foresee messages about problems with your brand's product or services? How would your brand respond to positive messages? Planning for these comments and messages will not only save you time in the future but help you further understand your brand voice and position.
3. Be Empathetic
One of the most important skills a social media marketer can possess is
emotional intelligence
– specifically the ability to empathize with your audience. VI's own Erin Robinson said it best – "Audiences of today, especially younger demographics, want brands to be more socially aware, authentic and transparent. They care more about who you are than what you are selling." Part of this is knowing and identifying who your brand is, and the other is knowing your audience and having empathy toward their needs and wants. While you may not understand why users may comment or send messages about a certain aspect of your brand, stop and think about WHY they did and how you can shape future content and responses to help bridge the gap.
4. Listen, Learn, and Adapt
Another important skill for social media marketers is the ability to
listen to the audience
, learn from their feedback and adapt your social strategy accordingly. Let's revisit the chicken sandwich battle of 2019. Whether Wendy's knew about Popeye's new sandwich or not, they saw the reaction on their social channels, adapted quickly, capitalized on the momentum and brought back their Spicy Chicken Nuggets.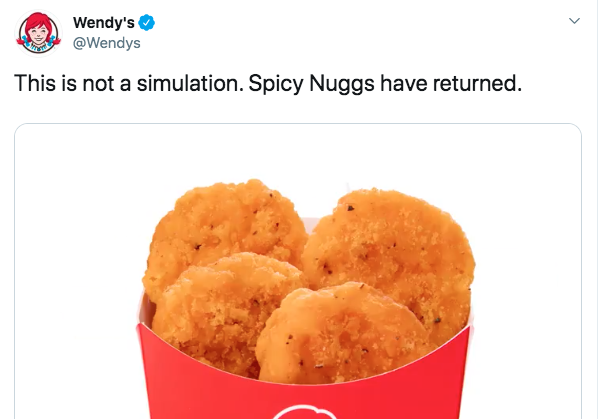 While this is not applicable to every brand, the theory is. Do you post about certain products or services and continue to see the same type of messages? If so, how can you learn from that feedback and adapt your content strategy? Do you continually get questions about a certain aspect of your brand? If so, how can you plan to answer these questions before they're asked? Thinking through these questions, analyzing messages from your audience and constantly adapting based on your findings will help you build your brand authority.

5. Be social and join the conversation
Last but certainly not least, remember your first job as a social media marketer is to
be social
. Heck, it's in the title! Whether you search natively in-platform or use a social listening tool, such as
Sprout
or
Nuvi
, it's important that you seek out conversations surrounding or related to your brand, and join the conversation daily. If your brand is tagged, you should always respond, but if your brand is not tagged, consider how joining the conversation will affect your brand authority. Let's use Wendy's as an example again. Because of the brand authority, they've built, their ability to adapt their social strategy based on follower feedback and their established brand voice, it made total sense for them to join the conversation about Popeye's new chicken sandwiches. However, would it have made sense for a brand like
Braum's
or
Sonic
to chime in? Yes, they both have chicken sandwiches, but their brand voice does not match the tone of the conversation and would not have been well received across the social realm.
Zaxby's
tried to capitalize and join the conversation. Check out just a few responses they received: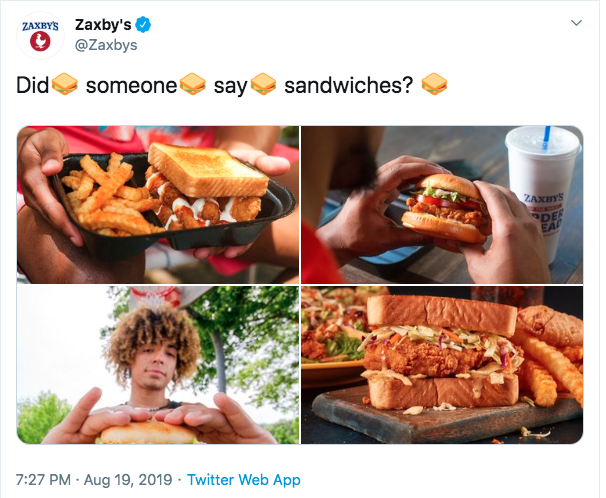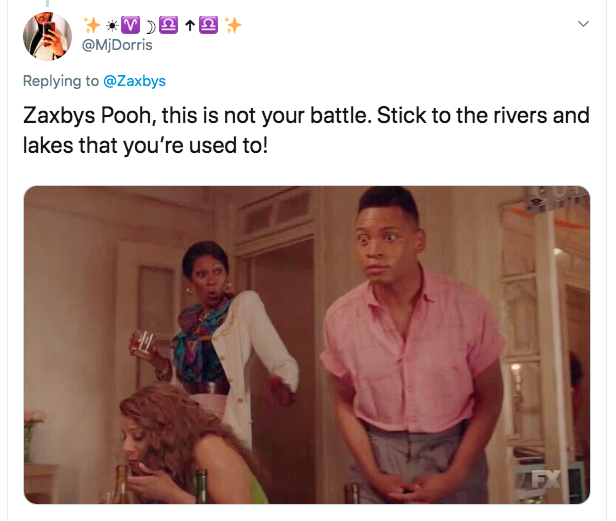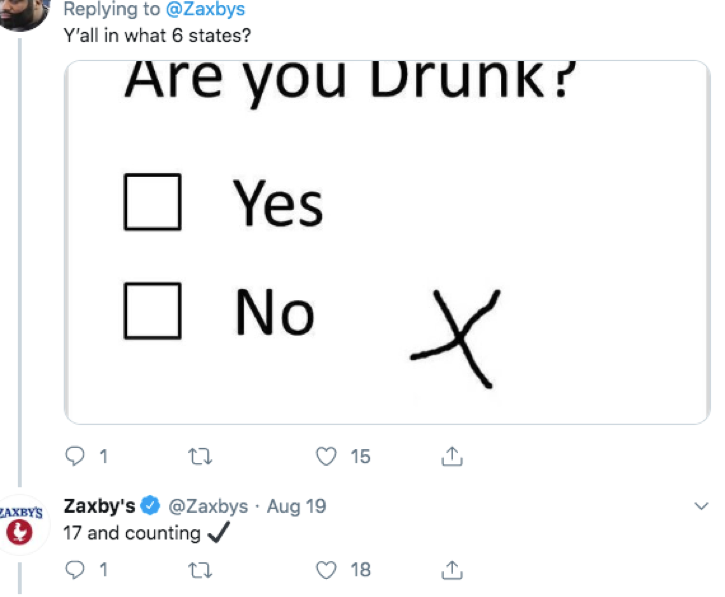 This is a perfect example of the importance of knowing your brand authority, voice and when to join a conversation. Unfortunately, Zaxby's missed the mark on this one.
Now that you have some tips for successfully managing a brand's social community, get out there and join the conversation!
Oh and, pro tip: Grab a chicken sandwich beforehand and let us know who really has the best.