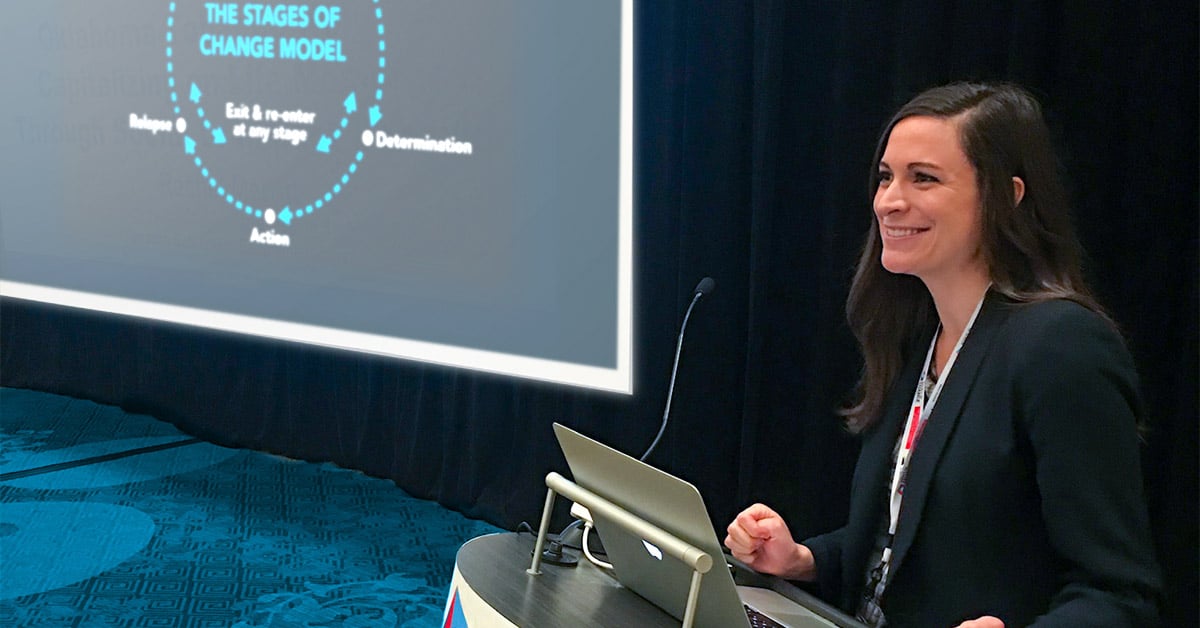 9 Ways to Tell Your Story in PowerPoint
Like any storytelling aid, PowerPoint can be both a tool...and a crutch. Used properly, it elevates a story to new heights, but used improperly, and your audience will feel lulled into a Koala-like slumber—not your target crowd. Combine your presentation skills with a sharp PowerPoint deck and you will win over a crowd.
Don't worry, we've done more than a few PowerPoint presentations over the years, so assembled below are nine methods to punch your presentation up into a compelling story.
1. Outline ahead of time
Wait! Don't open PowerPoint yet. Instead, start by outlining your presentation with a well-defined beginning, middle, and end, including a self-introduction and conclusion. With those elements in place, fill the gaps with your subject expertise making sure each point serves an overarching presentation narrative.

2. Watch and learn
Looking for inspiration? Ted Talks are excellent for observing techniques and presentation styles in action. You'll see the best presenters clearly introduce themselves, their topic, and learning objectives before diving into the actual presentation. Remember, you are presenting on behalf of your personal brand or your organization's brand. If it's a hard-hitting presentation, you may need to present in a more serious tone. If your topic is a little more irreverent, you may want to loosen it up.


3. Practice makes perfect
Don't separate storytelling from presentation. Great storytelling involves good timing and varied cadence that allows for emphasis on critical information. For rehearsal, use your phone's timer and voice recorder. Play it back and write notes on what needs change. Look for opportunities to refine your story. Then, present to a friend or colleague for even more feedback. How does it compare to some of those Ted Talks?


4. Word count
A common rule of thumb regarding on-screen word count is keeping each slide to 5 lines, with five to seven words per line. Think of these words as signposts marked to help guide your audience as you move along in your presentation.


5. Color Carefully
Remember that spike in childhood cataracts in 1999? Yep, gel pens. The glittery neon ink backed by white paper was too bright to handle. On behalf of your audience and with that make-believe epidemic in mind, apply color with deep caution here. Utilize high contrast combinations.

Use your best judgment with effects. Generally, we think using dramatic gradient backgrounds, neon colors, or slide transition effects can take away from the presentation. Don't underestimate the power of clarity and simplicity.


6. Use images liberally
Images can help paint a picture and enhance a story. Think of Michelangelo's Sistine Chapel or early cave drawings. Just keep it relevant to your topic and as a functioning component to your narrative. It's helpful to keep a consistent style to your presentation. For example, if you choose cartoon characters to visually tell your story, use them throughout. It will make your presentation look more refined and on track with your story. Always remember your audience when designing slides.


7. Make eye contact with your audience
Arming yourself with a novel of presenter notes within your slides is great, but resist leaning on them too much, or reading the presentation verbatim, slide-by-slide. Further, convince your audience of your subject expertise by making consistent eye contact. Use your notes as checkpoints to hit within the content you've practiced. It goes a long way in keeping everyone engaged.


8. Set the pace
You know the material, so highlight which points you'd like to drive home with a carefully planted pause and the right slide content. Coupled with varied speaking rhythm and tone, a short pause lets information sink in and keeps your audience members engaged, actively digesting information. Make sure your audience isn't distracted by what's on the slide. Maybe this is an image slide or an impactful statistic. Timing is everything.


9. Set your Sights on Insights
Be careful when communicating raw statistics and showing complex graphs. They induce, as previously mentioned, Koala-like brainwaves, a known phenomenon that leads to sudden napping. Think of yourself as a storyteller, where your job is spinning yarn from raw intel by turning numbers into insights and insights into a story.


We believe every presentation is an opportunity for impact and inspiration. It just takes a little planning to turn your expertise into a compelling story, and we think these tips will give you a template for telling yours. Don't forget: Story telling is fun! Be creative, and take your audience along for a ride!
Read more about storytelling in this blog.