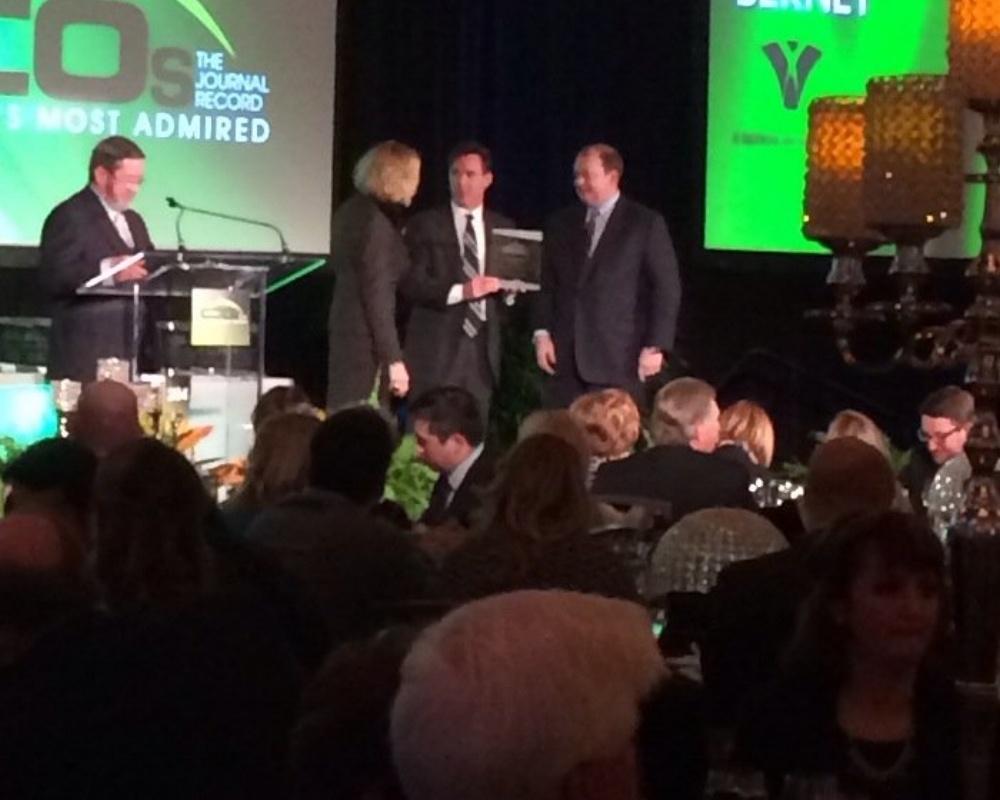 Most Admired CEOs honored, via The Journal Record
VI President, Tim Berney Honored Last Night as one of Oklahoma's Most Admired
OKLAHOMA CITY – Thirty-two executives were recognized Thursday night at The Journal Record's fifth annual Oklahoma's Most Admired CEOs event at the Skirvin Hilton Hotel in downtown Oklahoma City.
Michael Kloiber, president and CEO of Tinker Federal Credit Union, was also inducted into the program's Chain of Distinction as a three-time honoree.
"Of course, this honor is truly humbling in itself," Kloiber said. "There is no greater reward than to be held in esteem by those on whose lives you have the opportunity to make a major impact. As the CEO, you have the ability to make them happy, content and challenged, or you can also have the opposite impact."
Kloiber and the other honorees were selected by a panel of business and community leaders and are profiled in the Oklahoma's Most Admired CEOs magazine inserted in Thursday's issue of The Journal Record.
Following is the list of the CEO honorees by category.
Public companies
Mark Funke, Southwest Bancorp/Bank SNB.
Brian Sampson, Vallourec Star.
Private companies
Gary Allison, Tri-State Industrial Group.
Bill Bartmann, CFS2.
Tim Berney, VI Marketing & Branding.
Cheryl Cohenour, Cherokee CRC.
Steve Corley, Eide Bailly.
Becky Frank, Schnake Turnbo Frank.
Todd Lisle, BKD.
Percy Kirk, Cox Communications.
Michael Kloiber, Tinker Federal Credit Union.
Bruce Lawrence, Integris Health.
J.W. Mashburn, Mashburn Enterprises.
Faye Norton, Designer Hardware by Faye.
Robert "Bob" Peterson, Melton Truck Lines.
Shawn Slaton, Cherokee Nation Businesses.
Syndy Thrash, Evans Enterprises.
Nonprofits
Ann Ackerman, Leadership Oklahoma.
Susan Agel, Positive Tomorrows.
Lauren Branch, NewView Oklahoma.
Carrie Brown, Payne Education Center.
Lou Carmichael, Variety Care.
Marci Donaho, Jasmine Moran Children's Museum.
Mark Graham, Tulsa Area United Way.
David Keith, McAlester Regional Health Center.
Sandra Lewis, Tulsa Day Center for the Homeless.
Connie Thrash McGoodwin, Dale Rogers Training Center.
Stacey Ninness, Neighborhood Services Organization.