Conversion Tracking and Optimization: Reporting on Results that Matter
One of the greatest aspects of being a digital marketer is the degree at which we are able to track the success of a campaign. The breadth of data at a digital marketer's fingertips increases each day, and with that, so does our responsibility to interpret and communicate campaign results within context of a client's business. However, strategizing and building a solid measurement infrastructure is at the core of key performance indicator (KPI) tracking, conversion attribution, and campaign reporting. In other words, the results we report are only as sound as the foundation on which they're built. Every client's situation is different, but this article should give you the questions and answers you need to create your next strategic digital marketing campaign.
What is conversion measurement?
Let's start with the basics: Conversion tracking shows you what happens after a customer interacts with an ad; It's our job to help define what actions are valuable and to what degree they are valuable in relation to other conversion actions.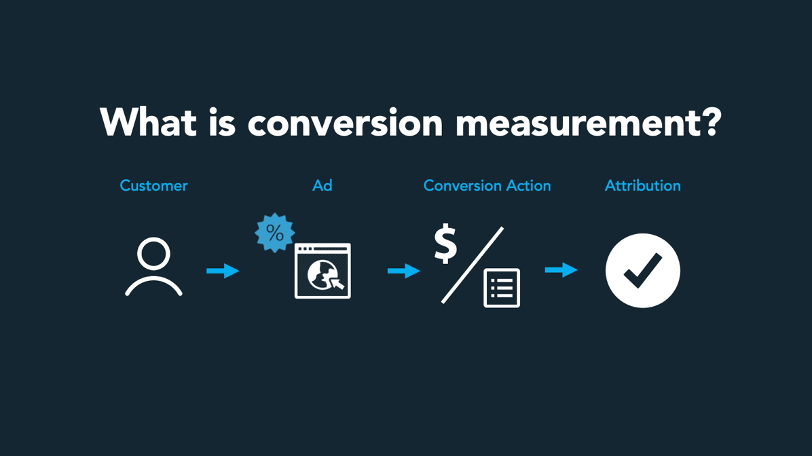 Why is conversion measurement important?
It's critical that digital marketers are able to analyze results and apply key insights to future initiatives. This can only be achieved with a strong measurement infrastructure in place, and it's helpful to view this from the perspectives of every stakeholder in the process:
Clients – Clients expect reporting and insights that help them conduct their business better and more efficiently. Digital marketing is a powerful resource for in-depth insights about a business's customer base. For example, you may be able answer questions like, "Who is more likely to purchase a product or service?" or "What type of content is leading to the greatest number of users to convert?" These questions can only be answered when you are able to pass conversion data back to your advertising platforms - conversion tracking is a must when reviewing ROI on marketing spends.
Account Teams – By establishing a conversion measurement strategy, you enable new members on your team to interpret past campaign results and apply those observations to future campaign discussions.
Ad Operations – Clearly defining a conversion action and its associated value allows your ad operations specialist to make informed optimization decisions; thus, improving overall campaign performance and subsequent results.
How do we measure conversion actions?
Now for the technical part—How do we measure conversion actions? Well, there are a multitude of ways to measure, and the subscribed tool should best represent a client's objectives, but here are a few staples within the Google Marketing Platform:
Establishing conversion tracking isn't always as simple as it should be, and most digital marketers will tell you that you're more than likely to run into issues when first deploying your conversion tags. Most often, you will run into technical limitations (e.g., website builds, plug-ins, multiple domains, etc.). It's imperative to identify potential pitfalls in initial planning discussions, set expectations, and strategize a plan to circumvent and solve these issues.
What do we do with conversion data?
So, now we've built an airtight measurement infrastructure, what exactly do we do with the conversion data? The answer is simple: Optimize.
'Optimization' is often a buzzword shrouded in ambiguity, but there really is a science behind it. Conversion data lends itself to a more scientific approach when evaluating a campaign's performance. Here are a few use cases where conversion data can benefit a campaign:
Improving landing page UX

Testing ad or landing page copy

Testing creative variations

Whitelisting/blacklisting domain placements

Auction-time bid strategies (i.e., Smart bidding)
Deeper Dive: I'm going to expound a little further on that last bullet point. Auction-time bidding is an automated media buying strategy that has skyrocketed in popularity due to its ability to automate mundane optimization tasks.
Auction-time bidding models use machine learning algorithms to optimize for efficient conversion generation with respect to a business's goals. Having a well-built measurement infrastructure in place allows marketers to be confident in an auction-time bid strategy's ability to generate conversions; however, these algorithms are only able to perform best when ingesting sound data. You want your bid strategies to be on an optimal diet—minimal junk food (i.e., flawed tracking implementation) and heightened attention to macronutrients (e.g., all valuable actions tracked, conversion values determined, measurement platforms integrated where possible, etc.).
Ready to get started?
Conversion measurement doesn't need to be perfect at first, and you certainly shouldn't wait to implement standard measurement practices until it is. Oftentimes, Google Analytics is the easiest and quickest measurement tool to implement. Start there.
Your team's ability to place conversion tracking and their confidence in the results thereafter will improve after a series of trial and error. Remember that any tracking is better than no tracking at all. In the end, adopting a data-first mentality will allow you, your clients, and your businesses to thrive.
Next up, learn how you can increase conversion by optimizing your online e-commerce experience.