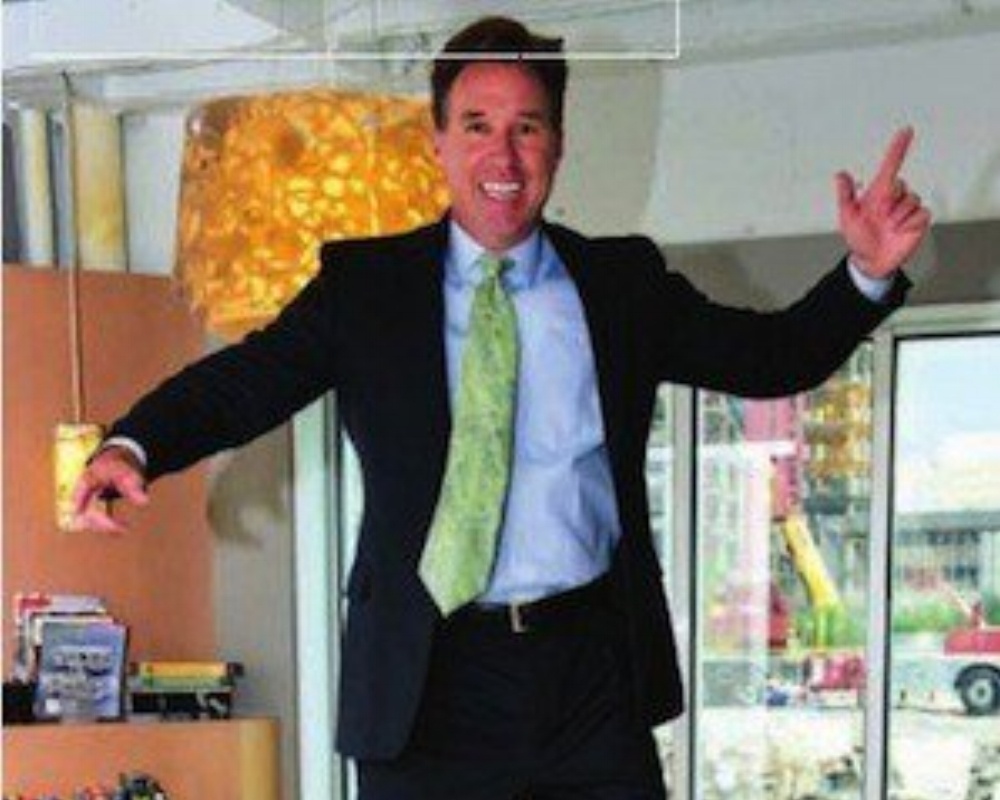 "Day in the Life" of President / Brand Strategy Tim Berney
OKC biz magazine (http://okc.biz/) was interested to see what an average day was like for someone who runs a large Marketing and Branding firm in Oklahoma City; Tim Berney of VI Marketing and Branding fits that description.
Turns out, your day begins at 4:35 a.m.
4:35 a.m.: Alarm. I need to change the CD — been waking up to Carly Simon for three years.
4:50 a.m.: Feed my dog, Marley. He thinks I wake up early just to feed him, but it's just to keep him quiet while I leave.
5:05 a.m.: Thirty minutes of elliptical training before workout lets me catch up on email and articles on iPad.
5:45 a.m.: My back hurts.
5:57 a.m.: My tricep hurts.
6:14 a.m.: My toe hurts.
6:50 a.m.: Home. Hi, wife. Shower and dress for work.
7:45 a.m.: Leave to take 13-year-old son to school. Grab apple on way out.
8 a.m.: Dang. I meant to take a different route to work. Broadway Extension is at a standstill. I ponder the effect on the economy when the new Interstate 44 interchange is built.
If 50,000 people save 20 minutes per day, that's 1 million minutes of increased productivity per day for OKC.
8:35 a.m.: Finally to office on Park Avenue. The commute is well worth it. Downtown OKC is full of energy. Stop in to see my controller, who is new on the job and is drinking from the fire hose. Someone changed a headline on an ad and hung it on my door. The new version says, "Tim Berney. Not Popular."
There goes that employee-of-the-month T-shirt.
9:30 a.m.: Conference call with a friend who owns an agency in Orlando. He's setting up a digital media department and wants to know how ours is structured. I'm in two peer groups that are invaluable to me. You really get your money's worth when everybody else is smarter than you.
10:30 a.m.: Research presentation for a client. Like always, the results confirm a lot of things, but turn up a few others we didn't expect. We make several recommendations based on the data and have healthy, intelligent discussion. This client is a good marketer and challenges us. That's a recipe for great work.
12:50 p.m.: It's Wednesday, which means Baja Soup day at Ground Floor Cafe & Bakery in Leadership Square. I love this soup. Eat at my desk while I catch up on Facebook and Twitter. Like it or not, it's where the consumer is, so it's where we have to be.
1:15 p.m.: Make calls for in-depth interviews with employees and customers of one of our clients. I am leading a branding project for them. One customer tells me that their favorite thing about my client is the cute salesperson. Can I build a brand around this? Next …
3:05 p.m.: My wife, Laura, calls every day about this time. Her day is divided into two parts: kids at school and kids in her hair. With three teenage boys, we always have an issue to resolve.
3:20 p.m.: Head to third floor to see my partner, Steve, for the first time today. He's casting talent for a national radio campaign. Quick conversation about a new marketing strategist we are hiring. After 20 years, we're on the same page on most issues (not all).
3:30 p.m.: Our vice president of client services catches me on my way down. Quick update on a campaign we're launching in 22 markets next week. It's a mad scramble within our walls. Reminds me of a client we had who appeared so calm under every circumstance. He said he was like a duck: He appeared cool on the outside, but was paddling his tail off below the surface.
4:15 p.m.: Meeting with a senior media buyer. I wouldn't want to be on the other side of the negotiation table from her. I ask a few questions about what she's done. She has the answers. I give her a hard time about the square dance convention she's heading to. She and I both know payback is coming …
5:20 p.m.: Finish the newsletter article I promised I'd have by noon (oops). My mother always tells me to stop giving away our secrets.
6:10 p.m.: Arrive home. My wife can make a gourmet meal out of whatever ingredients she has. Tonight is some chicken and vegetable thing over rice. This (and everything else) goes great with a glass of Cabernet. Three of us for dinner tonight as my 16-year-old rolls in. Funniest person I know.
7:25 p.m.: Like most days, I'm at a soccer field. All three boys play competitive soccer, and it dominates our life. Tonight's just practice, which runs late.
8:35 p.m.: Proof a proposal that our marketing director just sent for a pitch tomorrow.
9:10 p.m.: TV with wife. I'd like to say we watched Curb Your Enthusiasm, but it was The Real Housewives of Orange County. Makes us feel better about ourselves.
9:55 p.m.: Ten minutes of reading will put me to sleep. Remembering Ben Clayton, which my cousin, Stephen Harrigan, wrote.