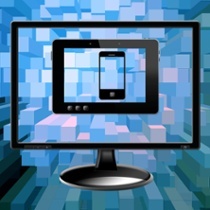 Digital Display Strategies in a Mobile-Friendly World
In 2014, 90.1% of US adults were mobile phone users, with 62.2% being Smartphone users. The number of Smartphone users has increased by 80% since 2011. With this explosion in mobile usage, is digital display advertising still important? Absolutely!
When planning digital budgets, and overall media budgets, it is vital to look at the consumers' media consumption as a whole and plan accordingly so that you are reaching your audience at all touch points throughout the day. Below is a look at the average time spent per day with major media (via eMarketer).
Digital media accounts for the most time spent with over 5½ hours per day. While mobile surpasses desktop with 2:51 hours, we cannot exclude the other 2:22 hours spent on desktop.
However, mobile usage does include times when it is being used as a second screen. For example, if you are playing games, checking email or updating your Facebook status while watching the most recent episode of The Voice, you are viewing your mobile device as an additional, or second, screen with your TV.
One of the greatest advantages of mobile advertising is its stronger performance over other digital media ad formats. The below graphs shows the average click-through rates by digital media ad format.
Also, the growth of digital video consumption has been dramatic. Time spent per day with digital video has tripled in the past 3 years, and mobile saw the greatest increase with video consumption jumping from 3 minutes per day in 2011 to 30 minutes in 2014.
With users' media consumption getting more fragmented and distracted by the number of screens available simultaneously, a strong marketing strategy is critical to reach the right person at the right time. In correlation, a successful digital campaign is having a well-balanced strategy focusing on all digital formats: display, mobile, video and audio.