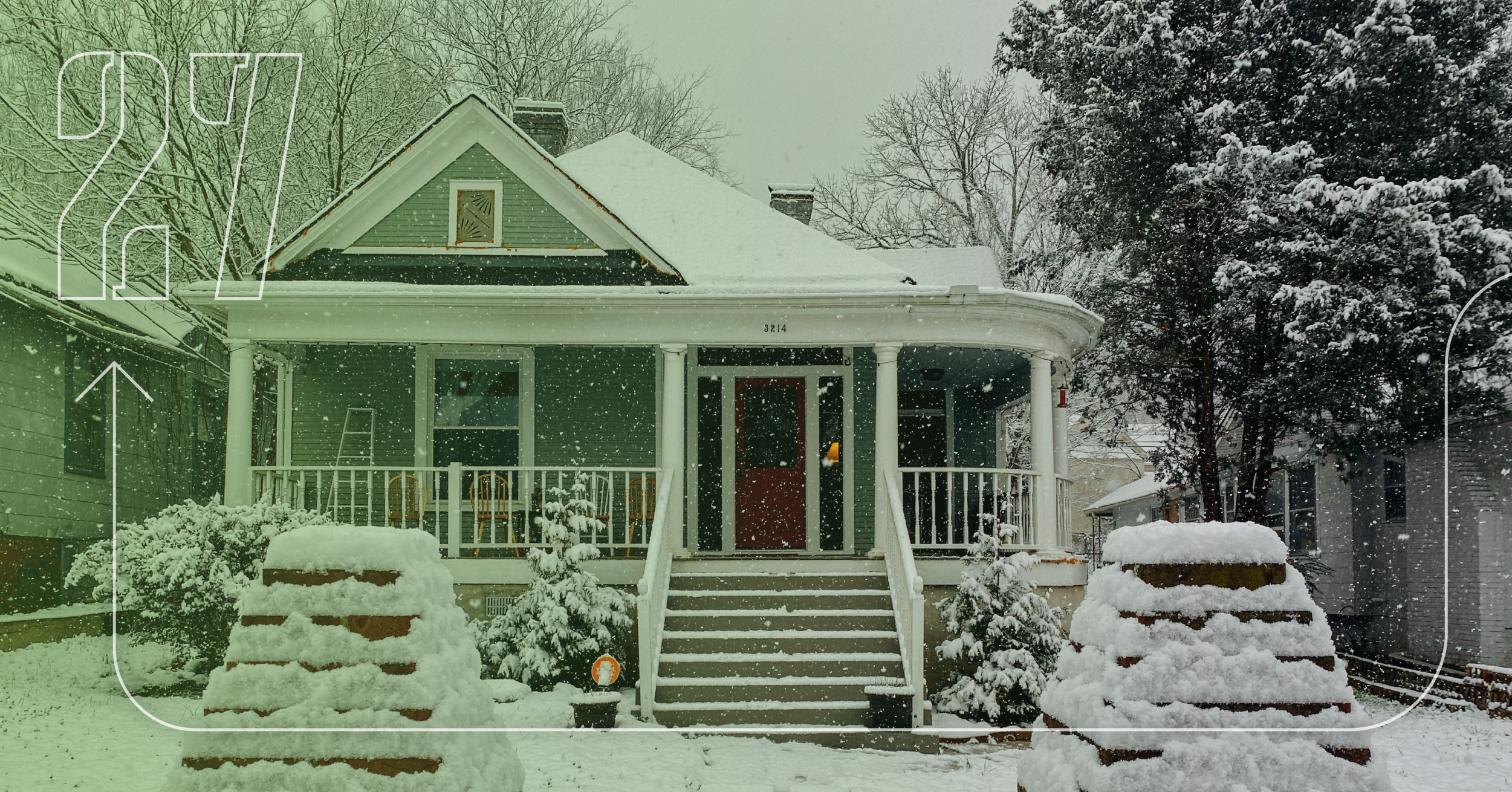 Follow These Energy Saving Tips to Winterize Your Home During #30DaysofChange
It's official, Oklahoma - feels like winter is here. Today for
#30DaysOfChange
, we want to help keep you warm AND save you some cold hard cash.
Here's are some tips to help you save and conserve some energy!
What goes along with colder temps? High energy costs. Not cool!
Below you'll find a few ways you can help protect your home from the cold AND save some money on your energy bill!
Ready to stick it to Old Man Winter? Let's go!
Dealing With Draftiness:
1. Doors
Cold air is sneaky. Be sure to check your weather stripping regularly. If you find cracks or damages, make a plan to replace it to help keep the cold out
2. Weather Stripping
Have an entry point that's not often used? Grab an old blanket, roll it up like a hotdog and press it up against the bottom of the door or update your weather stripping for efficient sealing. Can't spare a blanket? Take a look at these draft blockers.
3. Windows
Do you have old, drafty windows? Replacing them with new, energy-efficient windows is one of best ways to improve your energy savings. However, this can be a pricey solution. Here are a few low-cost tricks:
Do you have south-facing windows? Good! On those sunny days, be sure to open those blinds to let the sun do its magic. Just don't forget to close them at night!

Get a roll of heavy-duty plastic wrap to cover your windows. That's right, simply stick the plastic wrap over the windows. It's a surprisingly effective cold air buffer. This one trick can save you serious money! There are also ready-made kits like this one

from 3M.

Bonus Tip: Want to step it up one more notch? Take a look at fabric window shades. Not only do they look great, but they can also help you save on energy costs.
Insider Tips:
1. Thermostat
If you're spending more than a few hours away from home during the day, be sure to set your thermostat down by 10-15 degrees. This can save you as much as 10% on your yearly energy bill.
Bonus Tip: Smart thermostats make managing interior temperatures very easy.
2. Exhaust Fans
Kitchen and bathroom exhaust fans are often overlooked areas of inefficiency. Be sure to not leave them on for any more than 10-15 minutes after you leave the room. Keep the precious warm air inside!
3. Check for Air Leaks
Have we mentioned how sneaky cold air is? We'll mention it again because it's really, really sneaky. Before the cold hits this winter, head down to your basement to check for ways unwanted air can seep in. Pay close attention to areas where cable lines enter as well as where your home's foundation meets the joists and baseboards.
For areas that are not caulked, run a bead of silicon caulk to seal it up.
4. Space Heater
This may not apply to everyone, but if you're spending time in one or two rooms in your home, then a space heater may be a good solution. Turn your home's thermostat down a few clicks and cuddle up next to your space heater.
5.
Water Heater
What's the temperature of your water heater? Be sure it's set at 120 degrees. It's not necessary to keep it any higher than that.
6.
Ceiling Fans
Your ceiling fan is hiding a feature! You can reverse its rotation. Doing this will help push the air downward instead of pulling it up. Why is this important? Hot air rises! Go ahead, give it a shot.
7.
Fireplace Tips
Nothing beats a fire on a cold night. Nothing, okay? Nothing. But when not in use, your fireplace could be detrimental to your energy costs. Why? Warm indoor air easily escapes through the opening and up through the chimney.
What can you do when it's not in use? Simple: Be sure to keep the doors closed. You could even seal the doors shut with a layer of the same heavy-duty plastic wrap you used on the windows.
Can't remember the last time you lit a fire? Consider plugging your chimney and fireplace.
8. Heating System
When's the last time you had a heating system check-up? Before the temperature drops, schedule a time for a professional to come take a look. They'll be able to point out potential leaks as well as perform regular maintenance. Want something you can easily do? Clean or replace filters on your furnace once a month.
Check that all vents, warm-air registers and baseboard heaters are clean and unobstructed by carpeting or furniture.
Pro tip: if you're shopping for new appliance, or for light bulbs — including Christmas lights — be sure to check the product label for the ENERGY STAR certification. Every little bit counts — and this certification ensures the product meets proper efficiency standards.