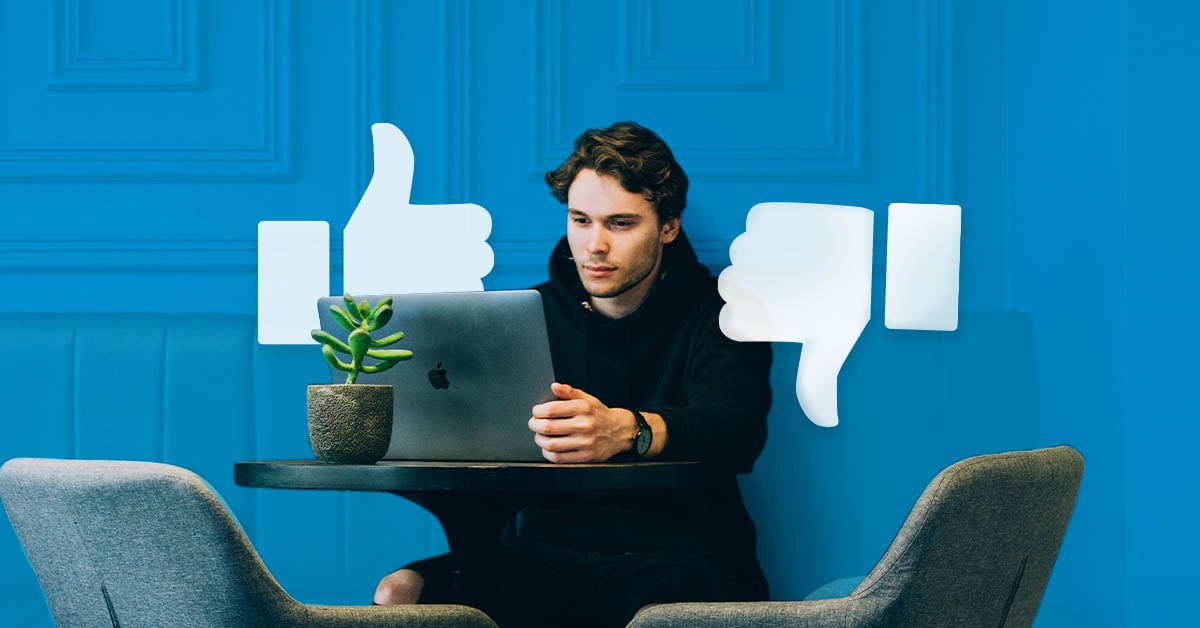 From Negative to Positive: A Deep Dive Into Social Media Sentiment
Measuring social media sentiment is an important tool to utilize in your social campaigns, especially in a pandemic, during an election, organizational turmoil, or whatever the world is facing in a given day!
First, let's define what social media sentiment is. It's the attitude people have toward your brand on social media, and it gives your business or organization insight into how your brand and campaigns are perceived. We're experiencing an unprecedented and uncertain time in many of our lives. Subsequently, it's essential that your brand's content is sensitive and helpful in the current social and economic climate. So, why is it important to measure social sentiment?
1. Measuring social sentiment can provide valuable audience insight.
Knowing your audience helps you strategically plan for future campaigns. For example, if your audience receives one particular piece of content positively, then that may be an indication to create more concepts around that idea. Further, understanding what your audience is saying about your brand allows you to take action and adjust messaging if necessary.

2. By measuring sentiment, you can deal with a crisis efficiently and effectively.
By understanding the reactions your content is eliciting, you can get a clearer picture of any spikes in negative sentiment and what exactly is causing it. For example, if a particular product or campaign isn't received well, you will get that feedback relatively quickly on social media, allowing you to fix the problem in a timely manner. Once you know the root of the problem, you can shift content and plan future strategies accordingly.
3. Social sentiment analysis helps you support customer service.
Monitoring social sentiment is an important aspect to customer service. It allows you to measure customer dissatisfaction and react effectively in order to leave users with a positive interaction with your brand. Each individual that your brand comes into contact with gives you an opportunity to influence consumer behavior. For example, if one user has a positive experience with your brand, they're more likely to recommend your services to friends and family. Word-of-mouth marketing is a powerful tool, and according to Nielsen, 74 percent of consumers identify word of mouth as a key influencer in their purchasing decisions. Subsequently, it is crucial that you monitor customer experiences and brand interactions.
Need further convincing? Let's break it down by the numbers.
According to Sprout Social, Facebook has 2.5 billion monthly active users and of those, 66 percent say they Like or Follow a brand on the platform. Instagram has over 1 billion monthly active users and among those users, 90 percent follow a business on the platform. Twitter has 330 million active users worldwide, with 26 percent of users saying they are more likely to view ads on this platform than any other leading platform.
These numbers tell us how essential social media is to your marketing plan. Further, it represents the amount of users that your brand has the opportunity to come into contact with. As a result, you want to know what they are saying and how they are interacting with your brand in order to enhance brand reputation and recognition.
Monitoring and measuring social sentiment is critical, and since social platforms allow you to spread information quickly, it is critical in times of crisis. Ultimately, be a resource for your audience by listening and delivering content and services that they need. Analyzing social sentiment is a great tool to manage communications and measure the impact of your content, and ensure you are delivering relevant information and driving meaningful interactions. As social media continues to attract billions of users worldwide, the importance of monitoring social sentiment will only increase.
We have plenty of other social media strategy insights to share with you. Check them out here!