Snacktime: How to Use Short-form Video to Leave a Lasting Impression
"Snackable" 6-second ads have been popping up in the digital space, as well as traditional media, for the past year. And now, industry leaders are saying 2018 is "go-time" for these short videos. As attention spans dwindle and the need for on-the-go information rises, these bite-size videos are giving the consumer what they seek and enticing them for more.
Let's be honest, 6 seconds is not a lot of time. But we have learned it is long enough to make a lasting impression for your brand. You don't have to take my word for it — Google tested over 300 campaigns that incorporated 6-second ads, and 9 out of 10 drove a significant lift in ad recall. These ads work particularly well when they are used to impact upper funnel metrics – recall, awareness and consideration. Strategy is key when you are looking at producing these ads, both in your intention and in your execution.
Intention – These snacks are not meant to replace your whole meal — they are just snacks after all. Rather, they are ideal for reach and frequency, and can be even more satisfying when used to tease, amplify or echo a full-length video.

Tease – You can build interest before an upcoming campaign with your bumper, or 6-second ad. A great example of this is how KFC teased an upcoming product launch with bumper ads and then unveiled the product with a longer video.
Amplify – This is when you run your bumper(s) at the same time as your longer video. Campbell's Soup Company had a lot of fun amplifying their long-format ad by creating hundreds of variations of 6-second ads that ran in conjunction with the original video. To add some fun and effectiveness, these 6-second ads were tailored and served based on what users were searching for. For example, if someone searched for a soccer score, they might be served this bumper video. Because viewers were already familiar with the brand's campaign, they could immediately make a connection between the various videos.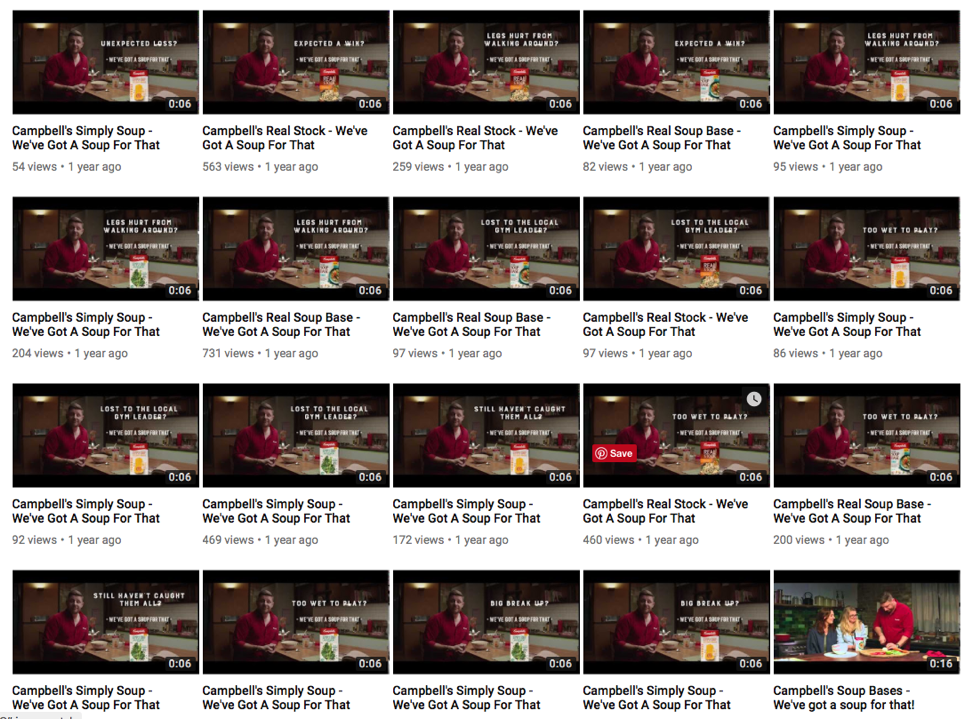 Echo — This is when brands use 6-second ads to continue their message or provide "bonus" content to their viewers. There are a few different ways to approach this strategy, including utilizing humor and emotion. Xbox really showcased their ability to have fun with a storyline when they echoed their long-format video for their Halo Wars 2 release with short, funny ads. These snackable ads were used to remarket to people. They had the feel of post-credit scenes and let the viewers feel like they were part of an insider's club. Another approach to storytelling is how Air B&B extended their "Live There" campaign with short bumpers that would echo the sentiment of the longer video — but in personalized and emotional ways. What parent isn't proud of their kid overcoming a fear, or longs to make lasting traditions with their family? While both of these examples are great uses of echoing, they each took the approach that matched their market.
Now let's talk about execution.
As an art director, I want to dive deep into the nitty-gritty of how you tell your story in 6 seconds, and how to do it well. So, here is a brief rundown on some best practices.
1. Focus. Focus. Focus.
There is no denying that time is quick, so let's really hone in on what the purpose is. Instead of trying to fit an elephant into a shoebox, let's drill down to the one key message. These ads need to have a single, simple purpose. And we need to make sure we are starting and ending with that one purpose in the concepting stage.

2. Timing.
Sometimes I worry about communicating a whole story arc in 30 seconds. So when you ask me to tell it in 6, I know there are some hurdles to overcome. First, we need to account for the time it takes for a viewer to acclimate to the ad. Otherwise, it can feel like a cold call. We want them to have an emotional response to the ad and then be able to process the information. After that, we need to make sure they know who is speaking to them and what action to take. For these reasons, the visuals need to be simple and clear and there needs to be time at the end for the brand's ad to sink in.

3. Don't cut down. Think up.
I think it should go without saying that cutting a long-format video into 6 seconds would be rough — and you aren't going to get your best product. It's key to know that these videos will be part of your campaign and to concept with these constraints in mind. While it is plausible to utilize assets from the full-length story, it is not plausible to just condense the story arc. The short ads take a shift in perspective for both the viewer and the creative behind the screen.
While it may seem like a stretch for some messages, there are times when 6 seconds is all you need. If you can drill down to your call to action clearly in the time constraint, go for it. SurveyMonkey did just that when they ran ads like this on YouTube. They found their value proposition and laid it out in clear, simple language in 6 seconds… and it worked. After running these ads with clear CTAs, SurveyMonkey saw a rapid rise in new user signups and upgrades for existing accounts.
And since 6 seconds isn't that long, I'll leave you with a few snacks to whet your appetite.