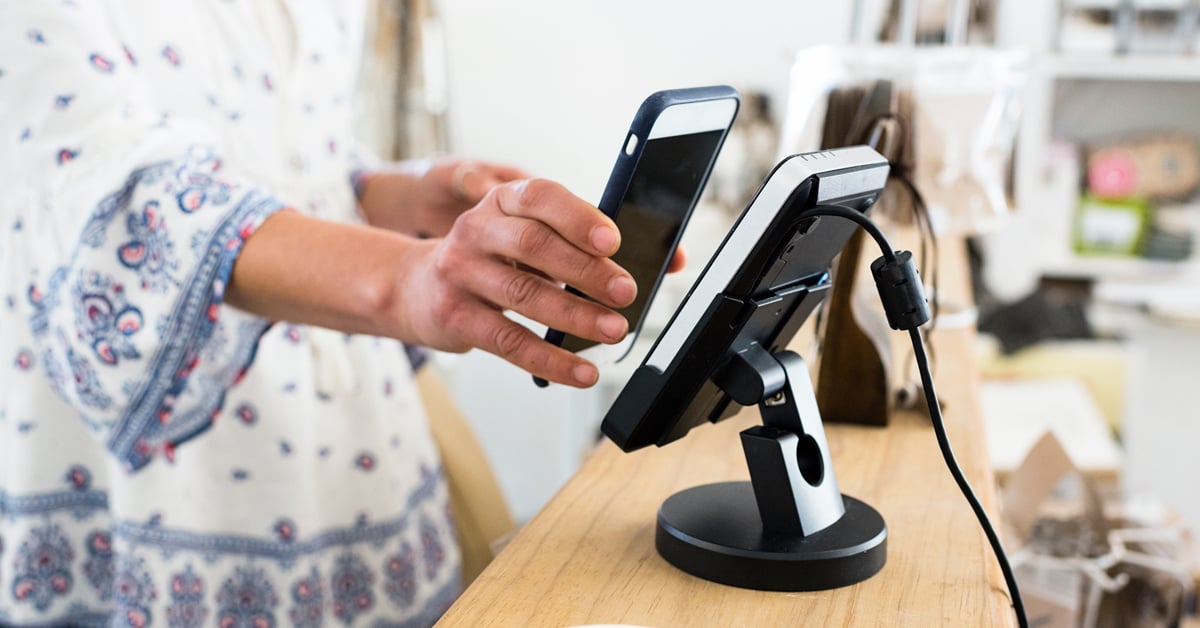 The Future of Mobile Payment
The future of payment processing lies within mobile technology as it continues to disrupt traditional payment systems including credit, debit cards and even cash. In fact, mobile wallets are on track to exceed both credit and debit card usage by 2020 (WorldPay). With mobile payment, it's time to get with the times or get left behind.
A mobile payment is simply a transaction performed over a mobile device, but there are many methods from which a customer could choose. The methods include:
Premium SMS
A mobile phone billing option that allows consumers to pay for products or services by sending or receiving an SMS text message to or from a premium-rated short phone number (
mobivate
).
Contactless NFC
Near-Field Communication (NFC) allows two devices placed within a close proximity of one another to exchange information. For example, if you touch your phone to the payment terminal at a store, the NFC will take money from the balance of the card you have linked on your phone (
cnet
).
Direct Mobile Billing
Charging a purchase to a cellular carrier. Wireless subscribers are able to place the cost of a purchase directly on their phone bill (
Mobile Payments Today
).
Web-Based Payment
Money exchanged electronically through a company,
service or app
. Typically, the transaction results in a transfer of monetary funds from the customer's bank or credit card to the recipient or retailer's bank or credit card. Examples of
web payments
include PayPal, Authorize.net, WePay, Venmo, Amazon Payments, etc.

According to Mobile Payments World, digital payment has increased rapidly over the last few years and is predicted to reach 150 million users by the end of 2020. This number will be the equivalent to 56% of the consumer population. Additionally, in-store mobile payments will reach $503 billion by 2020, which equates to an annual growth rate of 80% within only a 5-year span (BI Intelligence). Knowing the growth potential and usage rate, it is apparent that mobile payments are already affecting marketing strategies and customer journeys.


Consumers are ready for mobile pay integration—your brand should be too.
Still not convinced? Consider these 4 benefits:
1. Data
When a customer makes a purchase over a mobile device, you have access to their frequency of buys, amount spent per purchase, preferred methods and much more. With these
insights,
customer journeys and behavior can be used for targeting in future marketing efforts, or even to track effectiveness of a certain campaign.
2. ROI
There is no longer a need for purchasing expensive sales equipment. Even though there are typically fees associated with mobile payment, you'll save over time by allowing customers to pay via their
mobile device.
3. Convenience
Customers like quick service and consider mobile payments to be faster than card or cash. A fast and enjoyable experience means a return visit from your favorite customer. Not to mention the time savings to get other customers in and out of the door.
4. Cash Flow
Individuals prefer cards over cash because of accessibility. A mobile payment is likely linked to a card number or bank account, therefore more purchases can be made with full access to bank funds. Mobile payment transfers can also occur in less than three days, meaning funds can quickly flow into and out of your business.
Consider adding mobile payment to your business model. Through valuable data and ease-of-use for your customers, this emerging technology has the capability to send your audience through the
marketing funnel
and achieve your marketing objectives faster than ever.
See how VI has helped brands achieve objectives with mobile payment integration here.