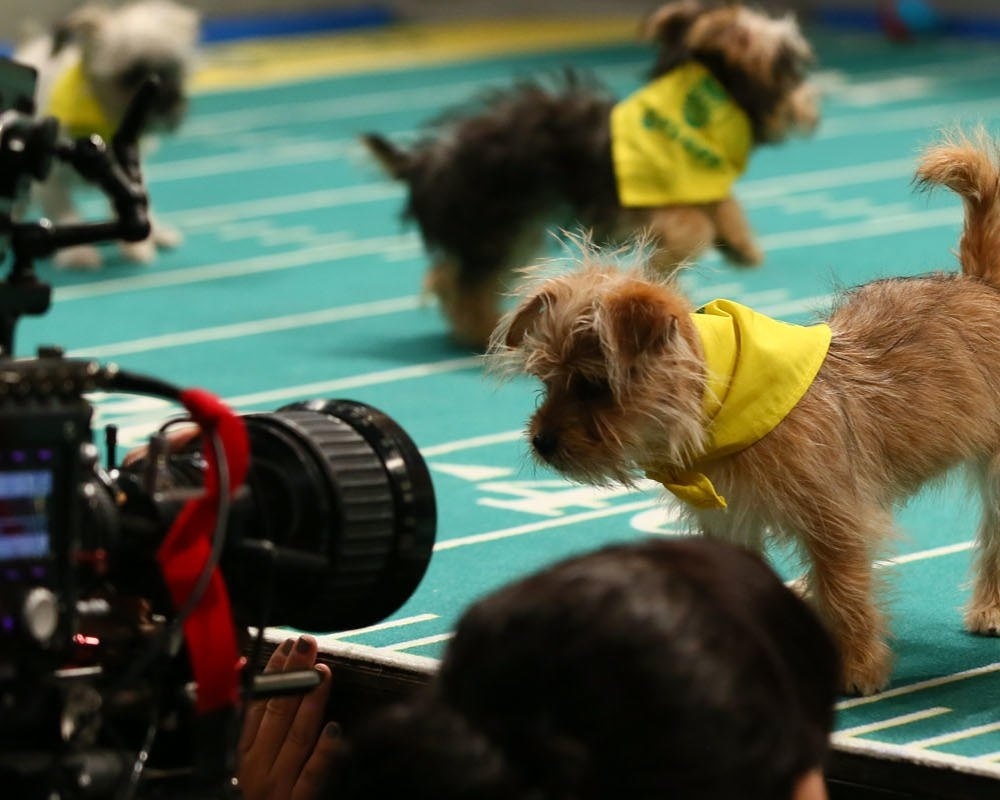 The Puppy Bowl Was the Best Bowl on Super Bowl Sunday
Genius. Riveting. Pure 'Merica. Those are adjectives used to describe the spectacle I watched on Super Bowl Sunday. There were touchdowns, shameless commercials and some edge-of-your-seat, heart-wrenching stories. I am talking, of course, about Puppy Bowl XIII: Team Ruff vs Team Fluff. Now, like most Americans, I'm a pet lover, so my views may be a little skewed here. And like most humans, I like baby animals.
Puppy Bowl combined it all, puppies named Puddles, Woody, Daphne, Alexander Hamilpup, Winter, Nikita and Smooshie a 12-week old Shar Pei. They had a cat's only suite with adorable kittens, a parrot named Meep who ran the "instant replay", bunny cheerleaders, a chinchilla mascot for one team and a screeching owl mascot for the other. There was even a 3-legged puppy named "Lucky", no joke and her brother named Ricky.
This is where they hooked me: in addition to every pet being a rescue animal that you could adopt, sponsors were woven in to the storyline in remarkable fashion. Bissell cleaned up puppy puddles with their self-cleaning spot remover. Subaru chimed in along with Pedigree puppy and DQ fan-food We saw Geico timeouts, and a cat halftime show featuring Kitty Gaga wearing a meat collar. What? This is a creative marketing team's dream show!
In the end, Team Fluff won the hotly contested tug-of-war, 93-38 over Team Ruff. And Rory, a poodle-terrier mix was named MVP (Most Valuable Pup). I am certain that Team Ruff didn't lose any sleep over the result. But, truly, in the end, we all won, didn't we? Especially the sponsors who are beloved by all for pouring their support into finding a home for these cute little critters. Puppy Bowl has become a powerful marketing tool, using cause-based marketing (the type that makes you feel good) to wend its way into our hearts.
This event just proves the sheer marketing power of Super Bowl Sunday and dispels the myth that everything Super Bowl related can only be seen on one channel. I can't wait for Puppy Bowl XIV. And I'll be rooting… for everyone.
(To read more of VI's thoughts on noteworthy moments Super Bowl Sunday, click here.)