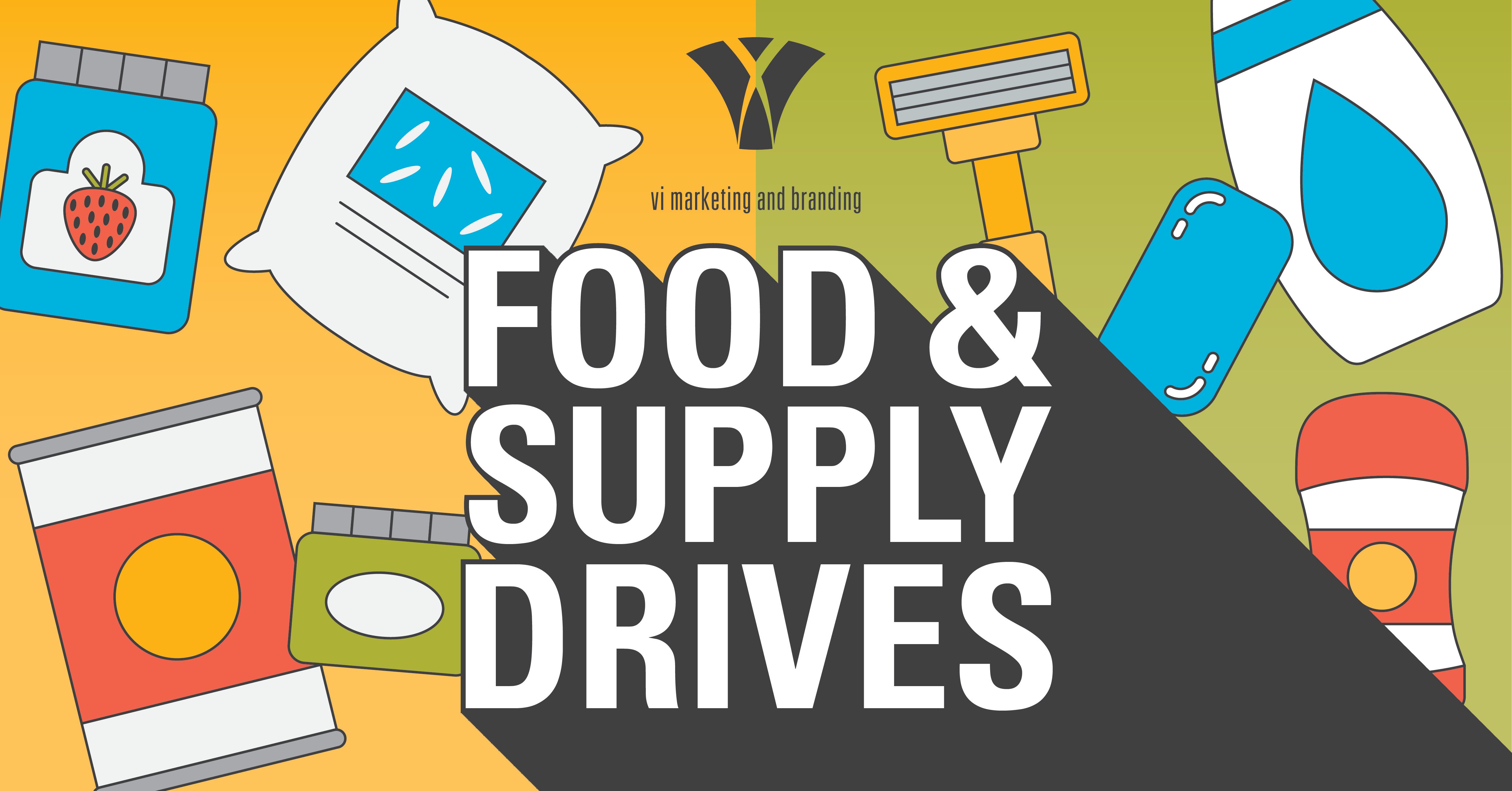 Join VI Marketing and Branding in April for a Food and Supplies Drive
Join VI Marketing and Branding beginning April 1 for a month-long effort to collect food and hygiene items to benefit local non-profits — and Oklahoma families!
We are excited to announce a partnership with the Regional Food Bank of Oklahoma and Wings Special Needs Community to collect essential items to keep Oklahomans healthy.
Regional Food Bank of Oklahoma
Food donations help keep pantries stocked across the Regional Food Bank's network of partner agencies. Whether you are a business or an individual, food donations can be an important way to directly give back to your community. Donations received through food drives are often used to help stock school pantries throughout the Regional Food Bank's service area.
How to Get Involved
To join VI in feeding Oklahoma, begin collecting non-expired items from your pantry or head out to a local store to purchase nonperishible items like:
Peanut butter
Canned soup
Canned fruit
Canned vegetables
Canned stew
Canned fish
Canned beans
Pasta (most prefer whole grain)
Rice (most prefer brown rice)
But, wait! There's more...

Wings: A Special Needs Community
We all deserve to enjoy full, vibrant lives. All of us. Wings exists to enhance the lives of adults with developmental disabilities through social, vocational and residential programs guided by principles of the Bible. Every day is approached by channeling intentionality and joy into our members' lives, which has a ripple effect on their families, our communities and those of us who are blessed to interface with them.
Wings is launching a brand new program this April: Wings Serves OK!
WingsServesOK
This program will provide more meaningful work for our members and allow Wings to increase our membership by 15%, adding 10 new members to our program and decreasing our waitlist. Our members will work to assemble 15,000 Family Hygiene and Cleaning kits in year one, that will sustain a family of 4 for a month. This will impact 60,000 Oklahomans! Did you know cleaning and hygiene supplies can not be purchased with food stamps? Our kits will be donated to our non-profit partners who serve families suffering from low-income, relieving these families of the stress of finding a way to meet basic needs. Help us make it happen! Learn More about this program.
How to Get Involved
Join VI on the mission to provide Oklahoma families with their basic needs. Below is a list of items in need: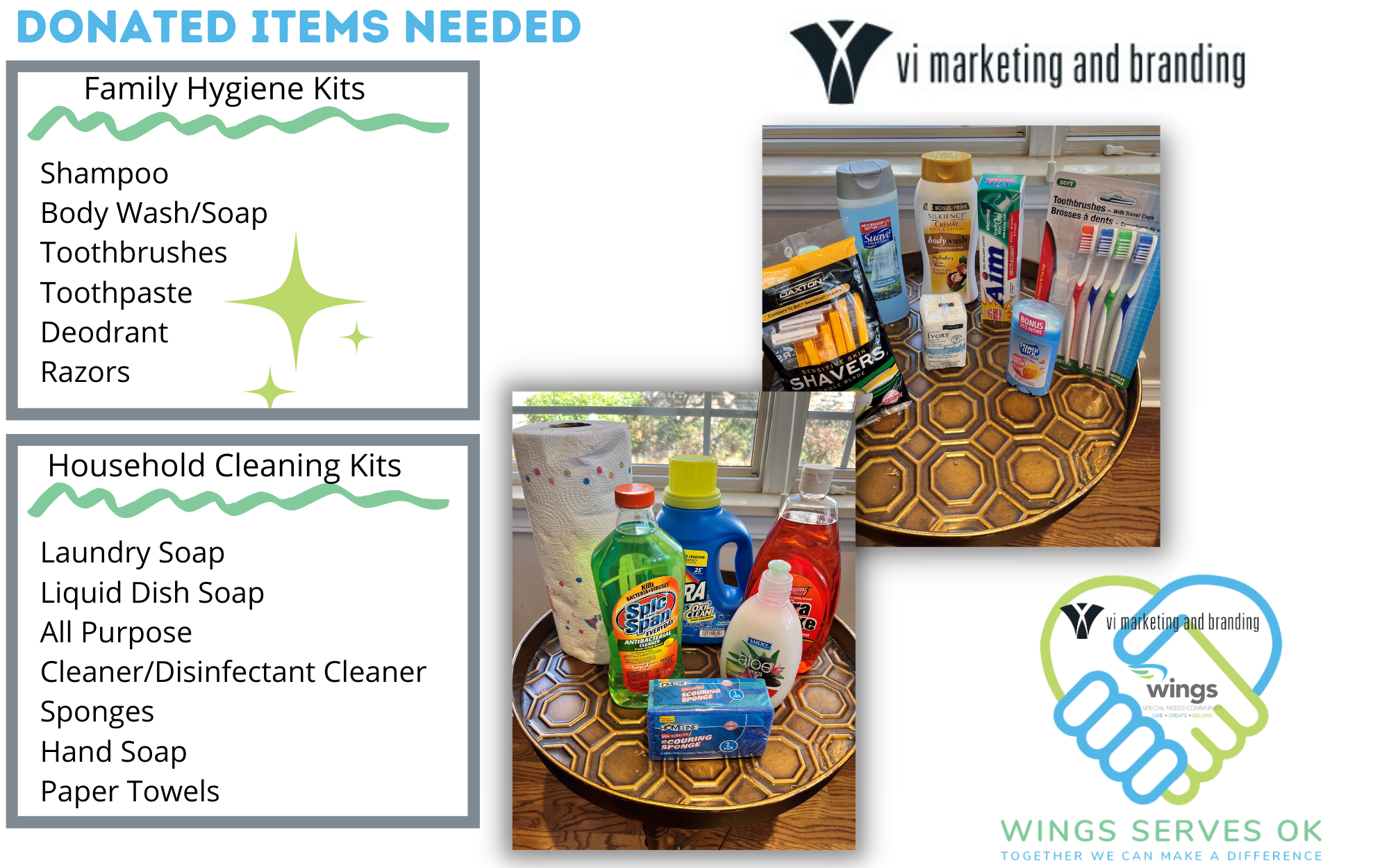 The headquarters of VI Marketing and Branding will be an official drop-off location for all food and hygiene supplies donations. We are located at 125 Park Avenue. Simply drop your items and we will do the rest!
All donations can be dropped off in the designated donation bins in the lobby Monday through Thursday 9 AM - 4 PM.
Want to help but can't collect and drop-off items at this time? No problem! Refer to the links below to donate towards these great causes or simply shop the Amazon link.
Donate to the Regional Food Bank of Oklahoma.
Shop for Wings Serves OK on Amazon.
For more about 30 Days of Change, learn more here!