Reaching Millennials Through Snapchat and Instagram Stories
Snapchat has taken the (marketing) world by storm these past 12 months as more and more users jump on board.
Younger millennials have already deemed this to be the social channel of choice and their grip on that choice seems to be rock solid. That is until the launch of a mirrored version of Snapchat was launched by social behemouth Instagram (owned by Facebook). We asked two on our social team to write about Instagram Stories vs. Snapchat. Should you, as a business, use Snapchat or Instagram Stories (or both)? Learn about the competing platforms below from Senior Social Media Strategist Gentry McKeown and Social Media Coordinator Alexandra Taylor.
First up: Senior Social Media Strategist Gentry McKeown.
"If I got caught plagiarizing this blog, it would be embarrassing not only for me, but for my employer as well. But when Instagram steals an idea, it makes headlines (like, the good kind).
In August, Instagram started rolling out Stories – a feature that allows users to send photo and video slideshows that eventually disappear. Real talk: it's a blatant, unapologetic rip-off of what Snapchat has been doing for a long time.
In a recent interview with TechCrunch, Instagram CEO Kevin Systrom addressed the elephant in the room: "This isn't about who invented something. This is about a format, and how you take it to a network and put your own spin on it."
Regardless of how you feel about Instagram Stories' similarity to Snapchat Stories, the good news is – social marketers now have a new toy to play with and a new way to reach their audience. But first you have to decide which platform is the best.
Snapchat gets my vote. Here's why:
Face-Mapping (image below)
If you're going to rip off an idea, at least do it right. Instagram neglected to commandeer the best part of Snapchat: face-mapping. If showing off your brand's quirky side is a goal, Snapchat is the place to do it because it's the only platform that allows users to vomit rainbows or swap faces with their cat.

It's where the cool kids are
According to Emarketer, 43% of Snapchat users are between the ages of 18 and 24. Youngsters may not be your target audience and that's okay… but at least take a moment to consider the opportunity Snapchat presents to deviate from the norm and present your message in a playful way. If you decide posting perfectly filtered photos of your daily special is the best strategy, keep on 'gramming.
Geofilters (image below)
Snapchat geofilters allow users to show their followers where a photo was taken. Marketers and casual users alike can easily create their own geofilters to feature special events or specific locations. Depending on the filter's timeline and reach, the cost has the potential to be ridiculously low.



You can upload older photos
Snapchat will allow you to upload old photos from your library to your Story, but Instagram only allows uploads of photos taken in the last 24 hours. Sure, there are ways around this, but having to take screenshots or edit meta data is time consuming and ain't nobody got time for that.
Emoji options
While you can use emojis on both platforms, Instagram only allows them in the text bar. Snapchat, however, allows you to use them anywhere on your image and even attach them to specific parts of moving videos. If attaching googly eyes to a snap of your dog on a skateboard is on your to-do list, Snapchat can make your dreams come true.
Sure, these are just a few reasons why I think Snapchat is the bee's knees, but at the end of the day Snapchat and Instagram offer two drastically experiences. Snapchat may not be right for all brands, but if you ask me, the world would be a better place if everyone embraced the "vomit rainbow."
And also from Social Media Coordinator Alexandra Taylor.
Keeping up with social media trends, like emerging platforms, is difficult for business owners trying to manage an already full calendar. When Instagram Stories launched, they launched a new format for business owners to further leverage a platform they've most likely already mastered.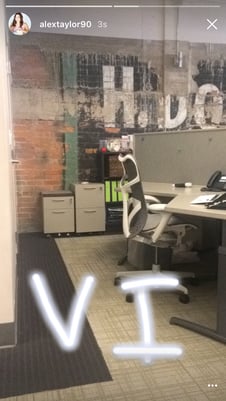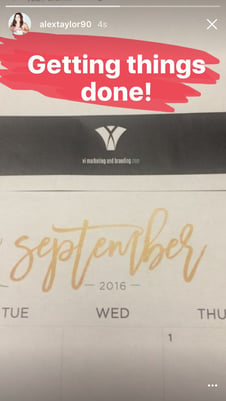 Instagram allows for an overall ease of use that you just don't get with Snapchat. So if we're picking sides, Instagram gets my vote. Here's why:
No More Hide and Seek
Instagram stories allows users to easily search and find companies on its platform, unlike Snapchat's top secret Snapcodes and usernames. This helps brands develop their following more quickly.
One Stop Shop
Instagram is offering added value to its platform in the form of convenience. You can access all its existing features, plus see the daily goings on of a brand that may not have made the "Instagram worthy" cut. It's all in one place and easily accessible. It's a dream come true for a population used to instant gratification, making it the obvious choice for a business owner.
It's Where Everyone Is
Instagram already boasts a larger and older audience than Snapchat, with 300 million daily users compared to Snapchat's 150 million daily users. This translates to business owners having the opportunity to market towards a much larger audience.
For the haters saying Instagram simply ripped off Snapchat, Instagram CEO, Kevin Systrom, has a few words for you.

"What you see is that every company looks around and adopts the best of the best formats or state-of-the-art technology. Snapchat adopted face filters that existed elsewhere first, right? And slideshows existed in other places, too," according to his interview with Tech Crunch.
(Want to learn more about VI's Social Media Services? Click here.)